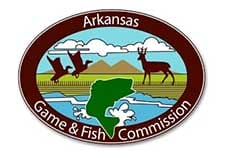 Arkansas -(Ammoland.com)- Bob Fugitt looks at the deer mount on a den wall, and the memory takes him back more than a half century.
it's an 8-point buck with a better than good set of antlers. Then a closer look shows a notched right ear. And that is the story of this particular buck.
Back in the deer restoration days, Arkansas Game and Fish Commission operated numbers deer farms or refuges. The term changed with the passing of years. A 1951 book published by the AGFC said there were 44 such facilities, and these included Big Lake National Wildlife Refuge and White River National Wildlife Refuge.
Nearly all the others were on leased or rented or sometimes just land worked through a handshake. The AGFC actually owned little land in those days, meaning the late 1920s to the late 1950s. This was the era of the deer turnaround – from a low of an estimated 500 deer in the entire state to today's abundance.
It took time, and it took habitat – the same essentials cited today by wildlife biologists.
One of the deer operations was near Hollywood, and it was called Clark County Deer Refuge. This was close to the Little Missouri River bottoms and land owned for generations by the Fugitt family. The river forms the boundary between Pike and Hempstead counties with Nevada and Clark counties nearby
Bob Fugitt told of killing that deer on the wall back in 1958. "The dogs were running deer, and three does came past us. I pushed back into some vines and sure enough, this buck came along. The dogs went one way after the does, and the buck went the other way. I waited until it got into an opening, then I shot."
This was before the onset of tree stand deer hunting. You were on the ground to hunt deer. Fugitt was using a Winchester Model 50 12-gauge shotgun, popular in those days, and he had it loaded with buckshot, also popular in those days. "I shot it at about 60 steps, and three buckshot went into the heart," he said. The buck had an 18-inch inside spread and later scored a Boone & Crockett 147.
Fugitt and companions began dressing out the deer, and someone said, "Look here. This ear has a notch in it. And here is a tag."
Some research turned up facts. Deer stocked on those refuges in the restoration era were notched and tagged for identification. Four does and two mature bucks were stocked on the Clark County Deer Refuge, so the buck that Fugitt killed was probably – repeat, probably – One of those two bucks put on the refuge just after World War II.
But another possibility is the buck could have come downstream from Howard County Deer Refuge 30 or so miles away.
Deer don't wear license plates nor carry Social Security cards.
This buck was a big one, Fugitt recalled. "We had a time getting it out and back to the farm," he said. That farm has an old house festooned with antlers – mementos of past hunting successes, he said.
But none of the other racks came from deer with notched ears and wearing tags.