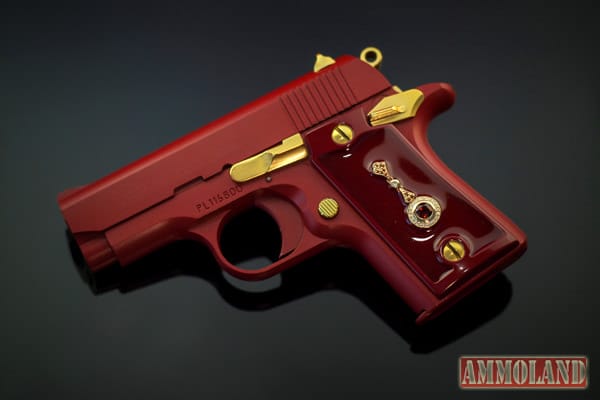 Skaneateles, NY -(AmmoLand.com)- Firegild, a boutique designer of custom firearms, is redefining luxury firearms with limited edition and custom designed firearms catering to the discerning gun owner.
Focused on creating a truly personalized firearm that makes a statement, Firegild incorporates precious and semi-precious gems such as sapphires, garnets, rubies, emeralds and even diamonds to create one-of-a-kind works of art that reflect the owner's personal style.
"At Firegild we understand that there is more to a firearm than just its utilitarian look and application. A firearm can make a statement, a bold statement, that announces to the world that its owner isn't just another among the crowd, but instead an individual who stands apart with a unique style and sensibility," said Firegild owner Polly Davis Ditch, a lifelong gun owner and a longtime firearms industry insider.

"That is why Firegild creates highly customized firearms to match the unique style of our customers. We work with only the top firearms manufactures and use the finest gems and customer finishes to create a handgun that is not just a tool for personal protection but a personal statement of individual style."

Firegild Exclusive Custom Firearms
About Firegild
Firegild offers both limited edition creations as well as fully customized firearms based on models from manufacturers such as Beretta, Browning, Colt, Ruger, Smith & Wesson and others. Firegild also offers custom grips incorporating precious and semi-precious gems, as well as fine leathers and exotic animal skins, for a more subtle yet equally unique custom appearance.
For more information on Firegild Exclusive Firearms visit www.firegild.com. You can also follow Firegild on Pinterest and Instagram.