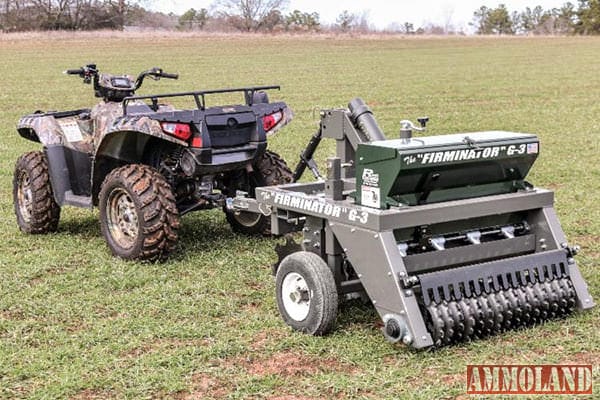 Milner, GA -(AmmoLand.com)- Not only can your ATV drag your big whitetail trophy out of the field, now it can help put a big buck in your sights each season.
When you couple an ATV with a perfectly matched Firminator planting implement, you can create food plots that help make a whitetail grow big by bringing those deer into a properly prepared and planted field.
Ranew's Outdoor Equipment proudly introduces the 100 percent made-in-the-USA Firminator G-3 ATV model. The G-3 ATV model is 800 pounds of ground-busting, seed-planting, seed-tamping ingenuity. The smallest Firminator model, the G-3 ATV, is no lightweight when it comes to getting a wide variety of food plot seeds in the ground efficiently and effectively.
Like its bigger relatives, the G-3 ATV model is a three-in-one, towable, tilling, soil-tamping and planting machine that makes food plot prep efficient. It also helps maximize food production by sowing seeds to their optimal depth and density.
The new ATV Model takes all of the features of the full-size 3-point Firminators and sizes it for ATVs and UTVs. Six, 14-inch disks at 6-inch spacing prep the soil in a 3-foot swath. The ground-turning discs combined with the company's precision ACCU-Seed delivery system and a true agricultural-grade, cast-iron cultipacker gives the guys without a tractor the opportunity to plant the best food plots using their ATV or UTV.
The ATV Model, like its bigger brethren, is built for the long haul. Its frame is constructed of 3-inch steel square tubing, and the seed box is constructed of steel. The 800-pound weight allows it to break up and dig in hard ground when other ATV harrows would just bounce across the surface. The ATV Model comes with a tow bar sized for a 1 7/8-inch ball, but it also retains the 3-point hitch so it can be used behind a small tractor. Ranew's Outdoor Equipment recommends a minimum of 500cc ATV or UTV to allow the Firminator to perform at its best.
For more information on the G-3 ATV model and all of the Firminator implements, check out www.thefirminator.com.
About Ranew's Outdoor Equipment
Ranew's Outdoor Equipment features the Firminator – The Firminator is by far the most versatile piece of equipment in the industry. The operator can choose from a wide range of angle and pitch adjustments to perform many different functions.
For more information, visit: www.TheFirminator.com.