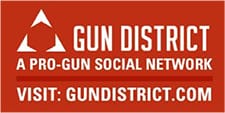 Lake Charles, LA -(AmmoLand.com)- Legally Armed America Inc., the pro-gun network of companies dedicated to preserving the Second Amendment and enriching the shooting sports lifestyle, along with Gun District, the premier social media community established for firearms and outdoor enthusiasts, announces new Gun District logoed apparel.
A portion of the apparel sales will benefit Honored American Veterans Afield (HAVA). HAVA helps wounded servicemen and women enjoy outdoor activities and shooting sports.
"Helping battlefield veterans return to normal American life is significant to us at Legally Armed America," said President, Paul Glasco. "So when we learned about the positive impact of HAVA in getting disabled vets back into the shooting sports from our friend World Speed Shooting Champion, Max Michel, we didn't hesitate. As a sponsored shooter for Legally Armed America and Gun District, Max's enthusiasm for HAVA and its mission was infectious," he added.

"I've seen firsthand the inspiring outcome from getting veterans back into the shooting activities they really enjoy through coaching," said Michel, Sig Sauer's shooting team captain. "HAVA's goal is to increase confidence and hope for the future by reconnecting veterans with their love of the outdoors and the American traditions of hunting and firearms. These men and women stood strong and proud for our protection and freedom and sacrificed much for us. They are the real heroes," he added.
The new Gun District t-shirt supporting American men and women of the military is available for purchase at www.2aClothing.com for $25. A portion of the proceeds will go to HAVA in support of their programs.
About HAVA
HAVA was conceived and organized in 2007 by a Committee of shooting sports industry executives to help the healing and re-integration of disabled veterans and injured active military back into normal American life through participation in outdoor events. The HAVA vision is the creation of a small organization of volunteers from the shooting sports industry to facilitate a series of hunting and shooting activities for groups of disabled veterans wherein personal attention of the sponsors and facility operators contributes to the veteran's sense of joy and accomplishment, and a permanent awareness that marvelous things are possible despite disabling injuries. These veterans have given their full measure of commitment to the preservation of their country's values, and deserve America's contribution to their healing process to whatever degree necessary to accomplish physical, mental and cultural rehabilitation. HAVA, through the efforts of Sustaining Sponsors and other contributors, can become an inspiration to both the veteran and to a grateful nation whose best instincts are to support the veteran who has served its cause so well.
For more information, visit: www.HonoredVeterans.org.
About Gun District
Gun District is a social networking service catering to those who share a reverence for the Second Amendment, guns and the outdoor lifestyle. Created in the spirit of camaraderie amongst people, organizations and companies with common interests, Gun District embraces the belief that restrictions on learning, sharing or purchasing guns or gun-related products is not a true representation of freedom. Responsible gun enthusiasts visit Gun District free from discrimination. Join today at GunDistrict.com, membership is free. For more information, please visit www.GunDistrict.com. Free mobile apps can be found by visiting Apple App Store and Android Market.
About Legally Armed America
Legally Armed America is a heart-pounding cable and web television show created for gun-lovers by gun addicts and dedicated to people who want to stay informed about the latest firearm-related products, events, news and just about anything gun related. Legally Armed America covers everything from useful reviews on the most exciting products, to supplying the latest gunsmithing techniques and tips. Field reporting from shooting competitions and industry events, as well as the most up-to-date news on gun legislation and gun control round out the dynamic show. The show is hosted by "a bunch of guys who grew up around guns, love the fact that our Constitution affords us the God-given right to purchase and own them, and appreciate the loads of responsible range time we get to spend with them." Legally Armed America is an NRA News Official Partner.
For more information, visit: www.LegallyArmedAmerica.com.