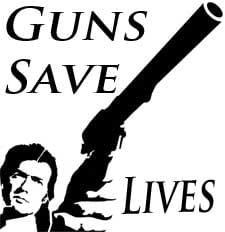 USA –-(Ammoland.com)- Somewhere, everyday in the USA, 2100+ people use a gun for self defense, to stop a crime or save the lives of themselves or their family.
"We believe that the American public deserve to understand that on the average, guns save 2,191 lives and are used to thwart crimes every day," says Alan Gottlieb of the Second Amendment Foundation
Most times you won't see these tales on the news as it does not fit the main stream media's story line of "Guns and Gun Owners are Bad".
This is just one of those stories;
A man pulled out an AK-47 Thursday morning in northwest Houston to protect his family.

According to the Harris County Sheriff's Office, it happened at about 4 a.m. outside of a home in the 3300 block of Cheaney near Veterans Memorial Drive.

The homeowner involved said that at about that time his alarm sounded.

"They tried to break into my son's window. They managed to get one lock undone, so I come out the house," he said, asking that his identity be kept secret.

He said his son, wife and newborn were inside the home with him. When he came outside, he saw two men in a white Chevy Impala. He said one of them shot at him so he fired his AK-47 at their car.

The gunshots sent two other men running in his direction from behind the home, the man said, and he shot at one of them.

Officers said that man jumped in the Impala and the group took off, leaving an accomplice behind. That suspect took off running through the neighborhood. Authorities said all got away.

Neighbors in the northwest side community said they slept through all the commotion.

"Scary, right next door, it's scary 'cuz we didn't hear anything," neighbor Carlton Wilson said.

He applauded what his neighbor did.

"I would protect my family. That would be my first thought, protect my family in all means necessary. If he did what he did, he had the right," he said.
About the Guns Save Lives Series:
Every few days AmmoLand Shooting Sports News will be featuring a new report of stories involving self defense with a hand gun. Be sure and share, like and Tweet these posts and help spread the truth that "Guns Save Lives". See more at www.AmmoLand.com ( http://tiny.cc/s6ef2w )