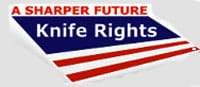 Gilbert, AZ –-(Ammoland.com)- Knife Rights last week filed a Rule 28(j) Notice of Supplemental Authorities in Knife Rights' Federal Civil Rights lawsuit against New York City and District Attorney Cyrus Vance, Jr.
A Rule 28(j) filing is used to "bring pertinent and significant authorities" to the Court's attention after oral argument (in our case, back in January of this year), but before the decision is announced. In this instance the U.S. Supreme Court recently issued an 8-1 decision in the case of Johnson v United States which bolstered Knife Rights' argument that the New York State law regarding gravity knives is unconstitutionally vague as applied by NYC and the DA to common folding knives (which are distinct from gravity knives because of their bias towards closure).
Justice Scalia wrote the opinion, which determined the residual clause in question to be in violation of the Fifth Amendment. Scalia described the statute as a "failed enterprise" that invited "arbitrary enforcement."
He declared that individuals are unconstitutionally deprived of due process when they are convicted under "a criminal law so vague that it fails to give ordinary people fair notice of the conduct it punishes."
We noted that SCOTUS also held that to survive a vagueness challenge the law must be clear in all its applications, not just some.
Justice Scalia wrote, "our holdings squarely contradict the theory that a vague provision is constitutional merely because there is some conduct that clearly falls within the provision's grasp."
So, even if the state gravity knife law is not vague in some instances, this decision goes directly to the City's and DA's "wrist flick" test because no one can know if any Common Folding Knife is legal since the test is inherently subjective and thereby is unconstitutionally vague in at least this particular instance.
The DA filed a responsive letter, but failed to address our argument in any substantive way. They merely contradicted our conclusion without providing any analysis or basis for their assertion.
About:
Knife Rights (www.KnifeRights.org) is America's Grassroots Knife Owners Organization, working towards a Sharper Future for all knife owners. Knife Rights is dedicated to providing knife owners an effective voice in public policy. Become a Knife Rights member and make a contribution to support the fight for your knife rights. Visit www.kniferights.org