Knife Rights is Rewriting Knife Law in America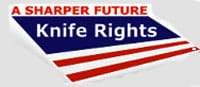 Gilbert, AZ -(AmmoLand.com)- Knife Rights' Nevada Knife Law Reform Bill, SB 176, went into effect as of July 1.
This legislation repeals existing bans on switchblade knives (longer than 2-inches), dirks, daggers and belt buckle knives. Unfortunately, because knife law preemption was stripped from the bill, citizens and travelers will still have to be wary of local regulations more restrictive than the new state law.
Existing local restrictions remain in effect. Also, the state ban on concealed carry of machetes remains in force. Knife Rights will be back next session to work to pass knife law preemption which would repeal the local restrictions.
Knife Rights continues to rewrite knife law in America. Nevada joins ten other states where Knife Rights has repealed knife bans since passing the nation's first repeal of knife bans in New Hampshire in 2010.
Knife Rights has since then repealed knife bans in Alaska, Indiana, Kansas, Maine, Missouri, Nevada, Oklahoma, Tennessee, Texas and Washington.
About Knife Rights
Knife Rights is America's Grassroots Knife Owners Organization, working towards a Sharper Future for all knife owners. Knife Rights is dedicated to providing knife owners an effective voice in public policy. Become a Knife Rights member and make a contribution to support the fight for your knife rights.
For more information, visit www.KnifeRights.org.