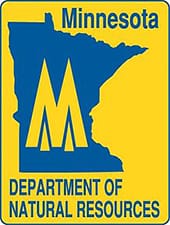 Minnesota –-(Ammoland.com)-As part of National Law Enforcement Memorial Week in May, conservation officers with the Minnesota Department of Natural Resources placed wreaths at cemeteries across the state to honor the 14 Minnesota conservation officers who have died in the line of duty since 1922.
Recently it was discovered that a 15th conservation officer died in the line of duty in 1941.
Charles V. Masoner, a long-time game warden in Bemidji, died of a heart attack at the age of 50 after assisting feeding deer at Itasca State Park. Following a memorial service in Bemidji, Masoner, a World War I veteran, was buried in his hometown of Cache, Oklahoma.
This was discovered by retired conservation officer Jeff Thielen in his capacity as the executive director of the Minnesota Military Museum at Camp Ripley while talking to museum board member, Betty Masoner. Masoner, 88, of Bemidji, is the daughter of Charles Masoner.
"When she told me her father was a deceased game warden, the name didn't ring a bell. I thought she was mistaken," Thielen said.
Thielen changed his mind once he put Becky Putzke, a retired police officer from Brainerd who volunteers at the military museum, on the case. Putzke put her investigative skills to work and found several old newspaper articles surrounding the game warden's death.
"I was 12 years old when my father died, so I don't remember much," said Betty Masoner. "I haven't thought about him in a long time, but he was a god as far as I was concerned."
She said he could fix anything, which led him from Oklahoma to Minnesota fixing farm machinery and then lumber equipment along the way. Masoner liked working outdoors and eventually became a Minnesota game warden.
Masoner's funeral service in Bemidji was attended by a host of other wardens wearing their new uniforms, which were acquired after the murder of three wardens in 1940. After their deaths, it was decided that game wardens would wear uniforms and carry a firearm for protection.
Betty Masoner graduated from Bemidji State University in three years with degrees in chemistry and music. She taught school for 50 years, eventually ending up in Browerville.
Thielen said Masoner's major claim to fame in Browerville was that every Veteran's Day she put on a special program for local veterans.
"Talk to anyone in the Browerville area and they all know Betty and her Veteran's Day programs, and all were because her father was a World War I veteran," Thielen said.

"His death was very traumatizing to her, so she always remembered him on Veteran's Day," Thielen said.
Seventy plus years later a lost game warden has been found and remembered.
"It was a Saturday when he died. He had gone out there to haul hay and he never came home," said Masoner. "It was just one of those things that you live with because you have no choice."