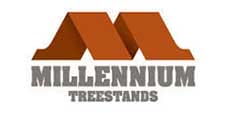 Pearl, MI -(AmmoLand.com)- The M60U Ultralite from Millennium is the best new hang-on stand for 2015, combining full-size comfort with a lightweight, yet super-sturdy design.
This 13.5 lb. aluminum stand can easily handle hunters up to 300 lbs. Reliable and easy to use, the M60U Ultralite is the premier new hang-on stand for the upcoming deer season.
The M60U Ultralite is great for any hunting situation. It's CamLock receiver system, a Millennium exclusive, allows for easy installation and setup – making it a perfect hang-on stand for hunters who like to get deep in the woods where the big bucks hide out. Simply attach the CamLock receiver to the tree then slide the mounting post into the receiver – fast, simple and safe! In addition, the stand folds flat for backpacking while the seat folds up for making standing shots a breeze.
The M60U features the exclusive, patented ComfortMAX contoured seat, guaranteed to make every hunt more enjoyable. The ComfortMAX makes it easier to stay in the stand for that extra hour or all day.
The patent pending Interlocking Leveling System allows the hunter to adjust the stand's platform and seat to perfectly fit those trees that are not straight.Now you don't have to find the perfect tree for each set up. Featuring a seat height of 21 inches and an adjustable seat and platform, hunters using can easily adjust to get the best view from a hunting location.
With a durable powder coat finish, the M60U Ultralite is sure to last through multiple seasons in the toughest conditions – with the "Comfort to Hunt All Day All Season." The M60U Ultralite comes standard with a full body harness that meets or exceeds industry standards recognized by TMA. Combining comfort, durability, and practicality, the M60U Ultralite is the best new hang-on stand on the market.
Millennium M60U Ultralite Features:
Durable powder coat finish
CamLock Receiver System
Comfortable, quiet, easy setup
Exclusive, patented ComfortMAX seat
Seat folds up for standing shots
Easily folds flat for backpacking
Backpack straps including
Interlock LEVELING System
Fully Body harness that meets or exceeds industry standards recognized by TMA
Product meets or exceeds industry standards recognized by TMA
The M60U Ultralite retails for $219.95. For more information on the Millennium M60U Ultralite Hang-On Stand or to order online, visit www.millenniumstands.com.
About Millennium Treestands
Millennium Treestands have long been recognized as the most quiet and comfortable stands on the market. Every angle, hinge and weld has been tested under the most extreme conditions by the most cynical and scrutinizing hunters.
For more information, please visit www.MillenniumStands.com.