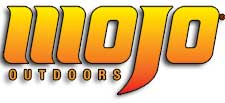 Glenwood, AL -(AmmoLand.com)- MOOSE Media announced today that MOJO Outdoors, the world leader in motion decoys, has renewed its title partnership of MOJO's Saturday Night Whistling Wings on the Pursuit Channel through 2015.
"It's a real honor to have MOJO recommit to the Whistling Wings waterfowl block for the 2015 television season," said Greg Tinsley of MOOSE Media. "MOJO, with innovative product that continues to provide world-class results afield, is a superb match to this world-class programming. Nobody does waterfowling like MOJO and Pursuit Channel."

Terry Denmon, President & CEO of MOJO Outdoors expressed: "It is high on MOJO's priority list to support both waterfowl hunting and waterfowl conservation. Pursuit's Whistling Wings waterfowl block provides not only some of the best waterfowl TV available today, but also significant education and information on both waterfowl hunting and conservation. MOJO is proud to support this block."
MOJO's Whistling Wings Saturday (7:00 p.m. to 9:30 p.m. EST) features: The Honey Brake Experience, Flyway Highway, The Grind Waterfowl TV, Ducks Unlimited Television, Avian-X and Sporting Dog Adventures.
"It's the best-of-the-best in waterfowl hunting adventure," said Rusty Faulk, Founder and CEO of Pursuit Channel. "The shows, the viewers and the staff of Pursuit Channel thank MOJO's Terry Denmon, Mike Morgan, Chuck Smart, and the rest of the MOJO crew, for yet more conservation-driven support of waterfowl, waterfowl hunters and this network."
MOJO Outdoors has long been recognized as the world leader in motion decoys and has progressed as the leader in all decoys. Today, MOJO is unsurpassed in innovative outdoor products that revolutionize the outdoor experience.
About MOJO Outdoors
MOJO has long been recognized as the World Leader in Motion Decoys and progressed as the leader in All Decoys. Today, MOJO is a company unsurpassed in bringing a wide variety of innovative outdoor products to the market that revolutionizes the outdoor experience.
See more at http://www.mojooutdoors.com.
About Pursuit Channel
Pursuit Channel, available in more than 42.5 million U.S. television households, including 1080i HD linear and OTT feeds,  is the only audited outdoors television network viewable to every DIRECTV (604 PRST) and DISH Network (393 PRST) subscriber, plus an increasing number of American cable systems.  Pursuit Channel is also available in full HD via ROKU and Chrome Cast platforms. MOOSE Media, www.moosemedia.tv, directs sales and marketing efforts for Pursuit.
For more information, visit: www.PursuitChannel.com.