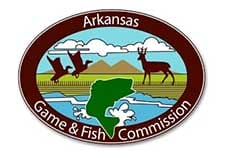 Arkansas  -(Ammoland.com)- A rehabilitated crested caracara, an extremely rare bird for Arkansas, was released Saturday, July 11, on an Independence County farm where it was found helpless more than two months ago.
The bird is from the subtropics, living in south Texas, southern Arizona and south Florida where it is listed as federally threatened, in addition to nations farther to the south. It is a raptor, a member of the falcon family, that often feeds on carrion. Crested caracaras are 19 to 23 inches tall.
This crested caracara was the first documented to visit Arkansas and was found on the farm of Craig Shirley near the Olyphant community. He noticed it one day near his house, then several days later when it was still there, he called the Arkansas Game and Fish Commission. Cpl. Roger Tate, a wildlife officer, and bird watchers from the Audubon Society arrived, and Tate captured the caracara with little trouble.
The emaciated bird was taken to raptor rehabilitator Rodney Paul in El Paso (White County) who restored it to health and exercised it in a large flight cage. Paul and his staff treated the bird for an eye irritation and fed it dead rats. It was banded and tagged for tracking purposes before release.
Karen Rowe, the nongame migratory bird coordinator for the Game and Fish Commission, was contacted by Dr. Joan Morrison, professor of biology at Trinity College in Hartford, Conn. Morrison, with the support of the U.S. Fish and Wildlife Service, offered to band and place a transmitter on the caracara to track its movements as it continued its journey outside the species' normal range.
The agreed plan was to release the recuperated bird where it was found and to minimize disturbance after the bird was released. Rowe and Morrison were among a small group on hand for the release.
Morrison said, "We banded and tagged this individual caracara because it was found in Arkansas, which is outside the species' typical North American range. Within the past 10 years, reports of caracaras have increased and it is not clear why these individuals are moving around so much. In Florida, individual caracaras are quite sedentary, but this may not be true for other populations, which can be found in Texas, Arizona, and Mexico. Hopefully, movements made by this Arkansas individual and habitats it chooses to occupy will tell us more about these wandering caracaras."