Appropriations Bill Language to Protect Lawful Ivory Owners Wins Key House Vote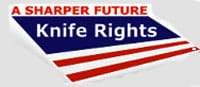 Gilbert, AZ –-(Ammoland.com)- By a vote of 244-183, the U.S. House last week defeated an amendment that would have stripped out language in the FY2016 Interior Appropriations bill that protects the interstate commerce of lawfully owned products containing ivory, including knives with ivory handles or embellishment.
This is ivory that has been legally in the U.S. for decades, having been imported prior to the implementation of the already existing ivory import bans. It would have no effect on the existing import bans which remain in place.
This was a very important vote for all those involved in the coalition working to protect lawfully owned ivory in this country. It sends a message to the Administration that there is significant and meaningful opposition to its efforts to irrationally and unconstitutionally punish lawful U.S. ivory owners in its politically motivated effort to ban ivory trade in the U.S., which will have no impact on the international trade in poached ivory. Whether the FY2016 Interior Appropriations bill actually moves forward is another question entirely, as other controversial issues have currently stalled this bill.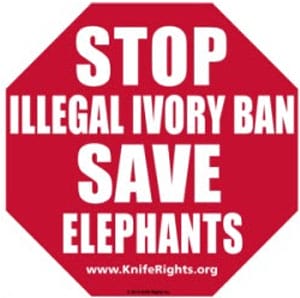 However, this is just one of the efforts in Congress to address the ivory ban issue. Another is the African Elephant Conservation and Legal Ivory Possession Act of 2015 H.R.697, a bipartisan bill to protect lawful ivory owners and advance conservation efforts in Africa that was introduced in the House in February. The Senate companion bill S.1769 was filed yesterday by Senators Steve Daines and Lamar Alexander. Sen. Daines had sponsored this bill last session as a House member; Sen. Alexander was last session's Senate sponsor.
"It's senseless that the Obama administration wants to retroactively penalize Montanans who have legally owned ivory-containing antique firearms, musical instruments and other family heirlooms for years before this new rule was even drafted," Daines stated.

"This legislation will protect millions of law-abiding Americans from the Obama administration's overreach and ensure that the U.S. Fish and Wildlife Service's focus is fixed on stopping poachers and those who are violating our laws – not punishing antique collectors and musicians."

"The Obama Administration's plan to limit the trade of legal ivory – such as that found in legally produced guitars, pianos, and firearms – could prohibit musicians from buying or selling instruments that contain ivory, prevent firearms and family heirlooms containing ivory from being sold, and pose a significant threat to the antique business," Alexander said.

"I don't support treating musicians, antique shops and firearms sellers like illegal ivory smugglers, and the U.S. Fish and Wildlife should take these concerns seriously as it considers changing how ivory is regulated."
Please CALL or EMAIL your Representative and Senators and ask them to Co-Sponsor the African Elephant Conservation and Legal Ivory Possession Act of 2015 (H.R. 697 or S.1769, respectively) to protect both elephants and Americans.
You can find your U.S. legislators and send them all an email here: www.democracy.io
Knife Rights abhors the poaching of all species. The proven solution is to attack poaching at the source, not punish lawful ivory owners in the U.S. who cannot have any effect on poaching. Successful anti-poaching programs have demonstrated that an integrated comprehensive approach that encourages the locals to fight poaching does work. This is the sort of solution that should be expanded and encouraged by the U.S. and by all who really want to end poaching.
When we are allowed the opportunity to explain the facts involved and the reality of the illicit trade in elephant ivory, in which Americans have virtually no involvement whatsoever, we have a good chance of changing the minds of legislators who have been mislead by emotionally charged, politically and financially motivated efforts to ban legal ivory that's been in the country for decades.
About:
Knife Rights (www.KnifeRights.org) is America's Grassroots Knife Owners Organization, working towards a Sharper Future for all knife owners. Knife Rights is dedicated to providing knife owners an effective voice in public policy. Become a Knife Rights member and make a contribution to support the fight for your knife rights. Visit www.kniferights.org