Knife Rights is Rewriting Knife Law in America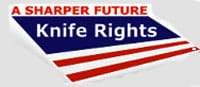 Gilbert, AZ -(AmmoLand.com)- Knife Rights Chairman Doug Ritter traveled to Oklahoma City last month for the formal signing ceremony for Knife Rights' two Oklahoma Knife Law Reform bills passed and signed earlier this year.
Combined with Knife Rights' Switchblade Carry Ban Repeal bill, HB 1911, that the Governor also signed at the ceremony, preemption ensures that switchblade carriers will not have to deal with local restrictions on switchblades and that possession of all knives will be legal throughout the state.
HB 1911 was sponsored by Rep John Paul Jordan Sen. Joseph Silk. Each of the bill sponsors was presented with a Hogue EX-A04 Automatic Knife with the Oklahoma state seal engraved on the blade (donated by Hogue). As you might expect, there were a lot of smiles when the sponsors and the Governor were presented with their knives.
WARNING: Both new laws go into effect on November 1st. Until then, existing restrictions are still in effect.
Daggers, bowie knives and dirks will remain prohibited from general carry in Oklahoma. Knife Rights still has some clean-up work to do in Oklahoma, but passage of these two bills this year is a huge step forward for Oklahomans.
Knife Rights passed the nation's first Knife Law Preemption bill in Arizona in 2010 and has since passed preemption bills in Alaska, Georgia, Kansas, New Hampshire, Oklahoma, Tennessee, Texas and Utah. Knife Rights is Rewriting Knife Law in America.
About Knife Rights
Knife Rights is America's Grassroots Knife Owners Organization, working towards a Sharper Future for all knife owners. Knife Rights is dedicated to providing knife owners an effective voice in public policy. Become a Knife Rights member and make a contribution to support the fight for your knife rights.
For more information, visit www.KnifeRights.org.