By Brenda Rolin, USAMU PAO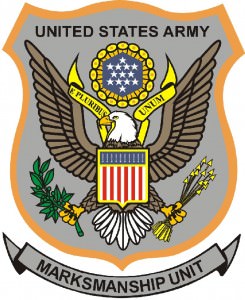 Fort Benning, GA -(AmmoLand.com)- Three Soldiers assigned to U.S. Army Marksmanship Unit won a gold medal, two silver medals and two Olympic quotas at the 2015 U.S. Pan American Games in Toronto, Canada, July 10-26.
"The Army and the United States achieved exceptional results at the Pan American Games. These Soldiers and the rest of the U.S. Team are working hard," said Lt. Col. Bret Tecklenburg, USAMU commander. "The results of this hard work showed at the Games. Next up is the World Cup in Gabala, Azerbaijan, where Soldiers from America's Army will continue to make us proud on their path to the 2016 Olympics."
Staff Sgt. Brad Balsley, from Uniontown, Penn., won a gold medal and an Olympic quota for the men's 25 meter rapid fire pistol event July 16 in Toronto. Prior to this event, he won the bronze medal in the rapid fire pistol championship during the 2015 USA Shooting National Championships for Rifle and Pistol, here, June 24 to July 1, securing a spot with Team USA for the Gabala World Cup next month.
Shooting sport athletes must win quotas for their country to allow their countries to compete, although athletes who win quotas are not automatically qualified for the Games as each country decides how to use the quotas won by its athletes.
On July 17, a silver medal was awarded to 2012 Olympian Sgt. 1st Class Michael McPhail, who recently won two world cups back-to-back and is currently ranked No. 1 in the world for men's 50 meter prone rifle by the International Shooting Sport Federation.
McPhail, of Darlington, Wis., won gold during the ISSF World Cup USA, here, May 11-19, and again at the ISSF World Cup in Munich, Germany, May 26 to June 2. McPhail will join his teammates at the Gabala World Cup.
All quota spots for men's 50 meter prone were won by McPhail during the ISSF World Cup USA and by USAS team member Matt Emmons' first-place at World Cup Changwon, Korea, earlier this year, according to USAS, the organization that prepares American athletes to win Olympic and Paralympic medals.
Another silver medal and an Olympic quota went to Staff Sgt. George Norton July 19 for the men's three position rifle.
Norton, an Albuquerque, N.M., native, was a double threat going into the Pan Am Games. He competed in both the men's 50 meter prone rifle, coming in ninth, and in the men's three-position event.
In men's double trap, Staff Sgt. Glenn Eller finished in fourth on July 16. He said he has a lot of work ahead of him before his next event-the Gabala World Cup.
"I gave it my all, but I came up short, so back to training," said Eller, of Katy, Texas.
About USAMU
The USAMU enhances the Army's recruiting effort, raises the standard of the Army's marksmanship proficiency, and supports the Army's small arms research and development initiatives in order to raise the Army's overall combat readiness. The U.S. Army Marksmanship Unit's mission is winning national and international shooting competitions and advancing small-arms lethality to demonstrate Army marksmanship capability and enhance marksmanship effectiveness in combat. USAMU is part of the U.S. Army Accessions Brigade and Army Marketing and Research Group.
For more information contact the Public Affairs Office at (706) 545-5436, [email protected] or www.USAMU.com.