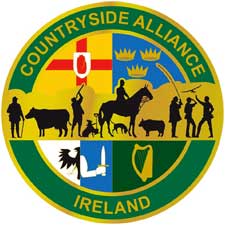 Ireland – -(Ammoland.com)- The Countryside Alliance has announced that Sir Barney White-Spunner will be stepping down as its Executive Chairman after the AGM in September.
The Board has appointed Director of Campaigns, Tim Bonner, to take charge as Chief Executive from that time.
Sir Barney has spent three and a half years at the head of Britain's largest rural campaigning organisation and Countryside Alliance chairman, Lord Mancroft, commented;
"Barney has brought much needed stability to the organisation and wrestled with some of the most intractable issues facing the British countryside. He has also started restructuring us so that we are fit to face the challenges of campaigning in the digital 21st century world. We are hugely grateful for his efforts."

"The Board was able to appoint an exceptional internal candidate in Tim Bonner who will provide continuity whilst pushing forward the evolution of the Alliance and its campaigns."

Commenting on his new appointment, Tim Bonner said, "This is a huge honour, but most of all a huge responsibility. I am constantly aware of the hundreds of thousands of Countryside Alliance members and supporters who rely on us to give them a voice. The Alliance will always focus on the core political and campaigning work it does best, but must also change to face new challenges."
On behalf of our Board and members, Countryside Alliance Ireland would like to wish Tim the very best in his new role and we look forward to working with him in benefiting the rural communities throughout the UK and Ireland.
Countryside Alliance Ireland also wish to convey thanks to Sir Barney White-Spunner for the dedication and commitment he has shown during his time with the Countryside Alliance and wish him every success in the future.
About
Countryside Alliance Ireland has been active since the early 1960s, providing Irish sportsmen and women with high levels of information and advice and representation. Over the years as the political environment has changed we have evolved into a highly effective campaigning organisation. Countryside Alliance Ireland is governed by an elected "Board" made up from members throughout Ireland. The Board sets policy and oversees financial and operational matters. Countryside Alliance Ireland partner groups nominate members of the "Board" also, making it truly representative of country sports interests in Ireland. Visit: www.countrysideallianceireland.org