Chapter will meet on July 6 at Bass Pro Shops in Mesa, Arizona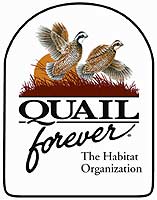 Scottsdale, AZ -(AmmoLand.com)- Embracing a local model for conservation efforts, Arizona quail hunters in the suburbs of Phoenix have formed the latest chapter of Quail Forever in the state.
Officially known as the Valley of the Sun Chapter of Quail Forever, volunteer committee members are focusing on conservation education for metro youth as a means to restore quail habitat and engage upland hunters in Arizona. Excited to bring his six years of experience as a chapter president in Iowa to Arizona is Chip Wittrock, the new chapter's president.
"We have quickly assembled a great group of men and women all driven by their passion for the fast flying quail," stated Wittrock, "Our objective and focus will remain consistent with a focus on habitat and getting more kids outdoors and enjoying all that Arizona has to offer."
Formation of the Valley of the Sun Chapter of Quail Forever comes on the heels of a positive report for Gambel's quail released by the Arizona Game and Fish Department. Following a winter season with "good" precipitation – a figure that is inextricably linked to quail reproduction – the Gambel's breeding index this year was calculated at 176 percent of the most recent 10-year average.
"This season should offer more birds in the bag and better wing shooting than we've seen in a decade," stated Johnathan O'Dell, small game biologist for the Department and committee member for the Valley of the Sun Chapter of Quail Forever.

"Arizona is a quail hunting mecca and the formation of our third chapter in the state marks a bright future for Quail Forever in the Southwest," said Bob Hix, Quail Forever's regional representative for Arizona. "The Valley of the Sun Chapter of Quail Forever is a group of professionals who all have a vested interest in quail hunting and youth education; they have hit the ground running and I look forward to working with them to foster the hunting heritage and conservation ethic which Arizona has to offer."
Valley of the Sun Chapter of Quail Forever
The Valley of the Sun Chapter of Quail Forever has elected Chip Wittrock of Scottsdale as president, Dan Walters of Phoenix as treasurer, Tres Garcia of Phoenix as social chair, and Ken Whitley of Chandler as vice president.
For more information about the chapter or to become involved, please contact chapter president, Chip Wittrock, at (712) 830-5986 / email. The chapter will hold its next meeting on Monday, July 6, at 6:30 p.m. in the conference room at Bass Pro Shops (1133 North Dobson – Mesa, AZ 85201). Hunters and conservationists interested in joining the chapter as volunteers are encouraged to attend. Quail Forever is the quail division of Pheasants Forever.
Arizona is home to three Quail Forever chapters and nearly 500 members of "The Habitat Organization."
For more information about Quail Forever in Arizona, contact Bob Hix, regional representative for Quail Forever in Arizona, at (303) 743-8957 / email.
About Quail Forever
Pheasants Forever, including its quail conservation division, Quail Forever, is the nation's largest nonprofit organization dedicated to upland habitat conservation. Pheasants Forever and Quail Forever have more than 140,000 members and 700 local chapters across the United States and Canada. Chapters are empowered to determine how 100 percent of their locally raised conservation funds are spent; the only national conservation organization that operates through this truly grassroots structure. Since creation in 1982, Pheasants Forever has spent $508 million on 475,000 habitat projects benefiting over 10 million acres nationwide.
For more information, visit: www.QuailForever.org.