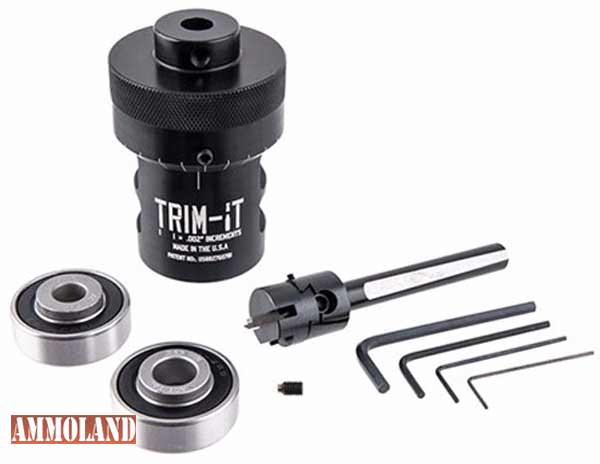 USA -(Ammoland.com)- Most of us love reloading, but hate using a case trimmer on brass. Manually sorting, trimming, chamfering and deburring – just to remove a few thousandths off a few cases is time-consuming, tedious, and can be incredibly frustrating.
Not to mention, those old hand-crank trimmers aren't the greatest for your shoulders and elbows after a while.

Well, there's finally an affordable product that does it all, and it's the TRIM-IT II Case Trimmer! ( goo.gl/swJjJT )
This trimmer hooks up to any power drill, drill press, electric screw driver, or anything with a motor and a chuck. That, in and of itself, will save you tons of money because you supply the motor!
Another huge benefit is that going between calibers is less costly (caliber dies are available for just under $20) and a lot faster than most other methods. Changing dies takes all of 15 seconds. To say this tool is fast is a bit of an understatement. In fact, if you secure the TRIM-IT II in a drill press, you can trim, chamfer and deburr your brass one-handed – up to 500 cases an hour; All for under $200!
How is it that this case trimmer can do it all? An ingenious tool called the Adjustable 3-Way Cutter.
This cutter allows the Trim-It II to work for multiple calibers. Once you set this cutter into position, it's held in place by a set screw. The beauty of this is that the cutter uses a carbide blade that has three separate cutting surfaces, meaning this tool is built to last a lifetime!
Speaking of that carbide blade, this is a good time to note that, by utilizing the "access holes" in the unit's body, its lateral position can be adjusted in its slot. This is how one aligns the V-notch with the neck wall of the case and how the tool can service any diameter neck. This blade is the key to the tools "3-in-1" operation! After setting, its position is secured by setscrew.
Furthermore, micrometer-precise control over the final case length, the major innovation introduced by the TRIM-IT I, is also present in the TRIM-IT II. With the amazing 3-in-1 cutter capability, it is easy to overlook this. With previous "trimmers" (none of which chamfered or deburred), to alleviate time-consuming and cumbersome measurements every time you had to maintain "trim-to length" cases in each caliber that you reloaded. The micrometer adjustment works so well that it negates the need for such special cases.
It allows for accurate and consistent trimming, and is a lot faster to set up.
The TRIM-IT II represents a major advancement in the art of case preparation and is highly-recommended for any serious reloader.
You can find the Trim-It Case Trimmer and parts at Brownells.com : http://goo.gl/swJjJT