USA -(Ammoland.com)- Vanguard World, global leader in sporting optics and shooting accessories, recently launched into a new optics category with the Endeavor RS Rifle Scope series.
Thanks to Vanguard's optical expertise as established through its award-winning binoculars and spotting scopes, the Endeavor RS Rifle Scope line breaks onto the scene with best-in-class image quality, comfortable ergonomics, and robust construction.
The Vanguard Endeavor RS Rifle Scope is engineered to handle rugged terrain even in the most challenging conditions. It provides the highest level of clarity, precision and durability on the market and comes protected by the best warranty in the industry.
In other words, the all new rifle scope line offers the design and performance that you've come to expect from Vanguard at a price that beats the old guard rifle scope manufacturers.
The Vanguard Endeavor RS optical design advances an unprecedented and remarkable pairing: premium HOYA ED glass combined with multiple anti-reflective coatings. The HOYA ED glass eliminates color aberration and leads to a clear and crisp view of the target. The multi-coated optics yield high-contrast, bright imagery.
With the Vanguard Endeavor RS Rifle Scope as never before, users can shoot more accurately with less eye strain, even in low light.
In addition to this noteworthy innovation, the Endeavor RS line also gets the basics right.
Simple and intuitive adjustment controls allow for precise sighting. The scopes feature single tube construction made from aircraft-grade 6061 aluminum alloy.
The standard 1 inch tube makes it easy to mount with a broad range of available rings. With a hard, anti-scratch surface and nitrogen gas purging, Endeavor RS scopes are rugged, waterproof and fog proof, even with drastic temperature changes.
The Endeavor RS is available in three magnifications with either a Duplex or BDC reticle: 4-12 x 40mm, 3.5-10 x 50mm, and 3-9 x 40mm.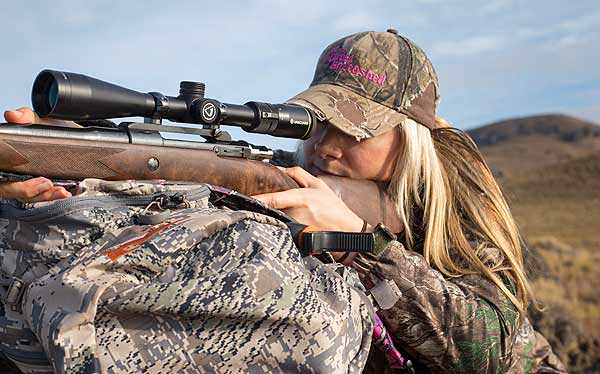 Endeavor RS scopes come protected by the best warranty in the industry: Vanguard's Premium Lifetime Warranty.
Committed to developing optics of superior design, performance and value, Vanguard takes pride in developing an ongoing, lifelong relationship with each of its customers. Due to Vanguard's confidence in its products and pledge to deliver only the highest level of service, they have created the most consumer-friendly lifetime guarantee in the industry. If your Vanguard rifle scope is ever broken or damaged, Vanguard will repair or replace it free of charge – no questions, no hassle. Vanguard's Lifetime Warranty has you covered.
Why is Vanguard so confident in their products' quality? Vanguard's team of engineers and serious sportsmen designs initial concepts. Then, Vanguard manufactures these products in its own Vanguard factories. This allows Vanguard to ensure the highest quality products from start to finish. The Endeavor RS line in particular was informed by the needs of passionate outdoorsmen. To ensure the Endeavor RS exceeded expectations, Vanguard partnered with some of the best outdoor enthusiasts in the industry: including Chipper Jones, Jeff Danker and Matt Duff of Major League Bowhunter, Bobby Hart and Gerry Rightmyer of Forever Wild Outdoors, the team at Michigan Out of Doors, Larysa Switlyk of Larysa Unleashed, Brett Rousselle of Whitetail Addicts, and Kinion Bankston of Southern Boyz Outdoors.
With innovation and high standards of quality at the forefront of all Vanguard initiatives, it's no wonder the Endeavor RS scope line has been heralded as a game changer.
About Vanguard:
Since 1986, Vanguard has been one of the global leaders in hunting and outdoor accessories, including binoculars, spotting scopes, shooting sticks, tripods, cases, and now rifle scopes. With first-of-their-kind features and capabilities, Vanguard's comprehensive product range meets the needs of a diverse range of all those who enjoy the outdoors. Vanguard knows that accessories can make or break a hunt. You can be sure—from your favorite tree stand to navigating through rough terrain when it becomes cold, wet and treacherous, you can rely on Vanguard. With ISO 9001 and 14001-certified facilities and hundreds of design patents, Vanguard has earned a solid reputation that spans the world. For more information about Vanguard, visit www.vanguardworld.us.