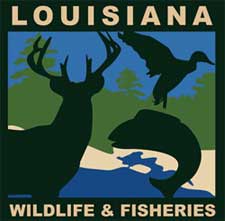 Louisiana -(Ammoland.com)- The 2014 Louisiana Male and Female Youth Hunters of the Year (YHOY) were recognized at the 2015 Louisiana Outdoor Writers Association (LOWA) Conference in Morgan City on Aug. 8.
Mya Gravois of Lakeland received the award for the 2014 Female YHOY and William Morrison of Natchitoches received the award for the 2014 Male YHOY. Both young hunters received their awards from Glynn Harris, distinguished LOWA writer and 2015 Arthur Van Pelt Award Winner.
YHOY Program sponsors include the Louisiana Wildlife Federation, the South Louisiana Branch of the Quality Deer Management Association, the Louisiana Chapter of the National Wild Turkey Federation, Harrison Law LLC, the BR Chapter of Delta Waterfowl and Bowie Outfitters in Baton Rouge.
Twelve-year-old Mya is the daughter of Hank and Aleisha Gravois.  Mya began the 2014 hunting season by harvesting a 13-foot alligator that is currently on display at the Swamp Shop in Grosse Tete. She harvested the gator on Indian Bayou Wildlife Management Area (WMA). Mya continued her memorable season harvesting cat squirrels on Sherburne WMA and then completed her 2014 hunting experience by harvesting three deer with three shots over the course of the season.
In her essay submitted, Mya wrote about the variety of great hunting experiences with her father and the excitement of each season within the season, a testimony to the wonderful outdoor opportunities that both boys and girls have in the Bayou State.
Twelve-year-old William's story actually began in 2012 on a spring turkey hunt on family land in Arkansas.  A gobbler came strutting right to him, he pulled the trigger and his gun did not fire. His older brother killed the tom and William was disappointed in his bad luck, but very excited for his brother and determined to harvest a turkey at his next opportunity.
He had no luck during the 2013 season, but on a turkey hunt in Louisiana in 2014 William made the shot with his new shotgun and bagged his first gobbler. His dad did the calling and his brother documented the hunt with his camera.  William's first turkey serves as a reminder that good things happen to those who persevere.  William is the son of William and Emily Morrison.
"These two youngsters and the families who provided their opportunities are fine examples that the Louisiana hunting tradition is alive and well," said David Moreland, YHOY Program co-coordinator.  "The goal of the program is to get youth involved in the outdoors and develop their appreciation for a sport that can last a lifetime."
The two winners received plaques recognizing their achievement and a gift card from Bowie Outfitters.
The 2015 YHOY competition started during the 2015 spring turkey season and continues when the 2015-16 dove season begins in September.  LDWF and LOWA encourage all youth hunters, 15 years old or younger, to participate in the Youth Hunter Registry Program and the Youth Hunter of the Year Program.
For more information about the Youth Hunter Registry and YHOY Program, visit LDWF's website at http://www.wlf.state.la.us/hunting/yhrp or contact Scott Durham at 225-765-2351 or [email protected] or David Moreland at 225-978-6552 or [email protected]