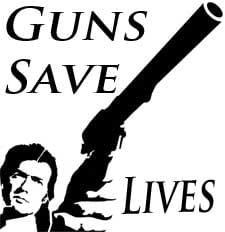 USA –-(Ammoland.com)- Somewhere, everyday in the USA, 2100+ people use a gun for self defense, to stop a crime or save the lives of themselves or their family.
"We believe that the American public deserve to understand that on the average, guns save 2,191 lives and are used to thwart crimes every day," says Alan Gottlieb of the Second Amendment Foundation
Most times you won't see these tales on the news as it does not fit the main stream media's story line of "Guns and Gun Owners are Bad".
This is just one of those stories;
Police describe Heriberto Haro-Luna, drunk and incensed, confronting his recently estranged wife in a Boulder church parking lot, trapping her by the neck and threatening to slit her throat as she uttered final prayers.

The citizen said he knew the woman, and he watched closely from a short distance as a verbal argument became physical and eventually turned into what police are now calling an attempted murder.

Police say the church employee — who hasn't yet been identified — thwarted Haro-Luna's attack and may have saved a life in the process.

"He was familiar with the woman as a regular parishioner on Thursday evenings," Detective Sgt. Jim MacPherson said.

"He saw (Haro-Luna) put his arm around her neck. She had actually started saying her prayers. She thought she was going to die right there."

The witness has a permit to carry a concealed handgun, MacPherson said.

"He presented (the gun) and told the man to leave her alone," he added. "It was very fortunate he was there."

Seeing the weapon, police say, Haro-Luna fled the parking lot and was captured shortly thereafter at the corner of Broadway and Mapleton Avenue by officers who subdued him with a Taser.
Read the complete news report here: http://tiny.cc/vndv1x
About the Guns Save Lives Series:
Every few days AmmoLand Shooting Sports News will be featuring a new report of stories involving self defense with a hand gun. Be sure and share, like and Tweet these posts and help spread the truth that "Guns Save Lives". See more at www.AmmoLand.com ( http://tiny.cc/s6ef2w )