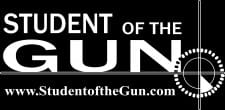 Biloxi, Mississippi (Ammoland) Real Life Attack: Metro police summed up the incident by saying the "three men approached a couple in their car, one of them armed with a gun. He tried to take the woman's purse [and] the man in the car pulled out a gun and shot that suspect." The suspect was taken to Sunrise Hospital, where he died.
Susan Russell lives in the same complex where the incident occurred, and she said the news convinced her to get a gun. She said the news scared her, so she "went to the gun store." Russell said, "I'm not against guns. But I'm against criminals using guns for criminal activities."
Owning a gun for personal defense is only a part of the equation. When faced with the stark reality of a life or death encounter, you cannot simply make it up on the spot. Every responsible gun owner owes it to themselves to get training and education.
Keeping with their desire to provide the best information and education on the safe and effective use of firearms, Student of the Gun has brought back by popular demand their Book/DVD combo that includes:  "Student of the Gun; a Beginner Once, a Student for Life" signed paperback book and the "Armed Living; Concealed Carry in an Uncertain World" physical DVD.
More information can be found at Student of the Gun Gear.com
Student of the Gun; A Beginner Once, a Student For Life will help you:
Understand the Fighting Mindset: Learn what it means to have a fighting or combat mindset.  Get your head in the right place.  Your mindset governs all the choices you make regarding gear, tactics, and training.
Make the Most of your Practice Time: Ammunition has never been cheap, but today it is more expensive than ever.  Learn to get the most of out of your investment in time and money.
Clear a Rifle or Pistol Stoppage like a Pro: Learn to operate your semi-automatic rifle and pistol and run them like a professional shooter.
Become a Better Coach and Instructor: Take yourself to the next level.  The best instructors are dedicated students.  Teaching others is one of the best ways to learn and grow as a student of the gun.
Armed Living; Concealed Carry in an Uncertain World
Students learn the "How, When and What Now" of self-defense and fighting with a handgun while living in an uncertain world. This DVD is merely a supplement to your overall training. We strongly encourage all gun owners to seek out professional training.
As a bonus feature, Paul reviews the "2010 Florida School Board Shooting" and discusses in detail what actually happens during a deadly force encounter. There are many lessons to be learned from that incident.            www.StudentoftheGunGear.com
DVD Topics Include:
Gear Selection
Gun Handling Tips
Live-Fire Demonstrations
Understanding Justifiable Use of Force
Less than Lethal Force Options
Deadly Force Explanation
Post Shooting Considerations
Much More!