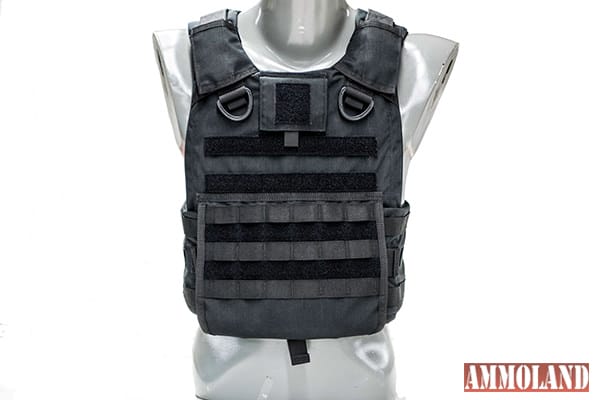 Miami, FL -(AmmoLand.com)- Armour Wear, the leader in protective armor innovation has officially announced its newest revolutionary product; The Special Purpose/ Application Releasable Carrier (SPARC).
The SPARC plate carrier is a fully adjustable and releasable, hard use carrier that will accommodate standard 10in X 12in hard plates, along with soft armor liners. This unique plate carrier uses a proprietary Quick Release Buckle (QRB) system which allows the user to doff the carrier in less than one second.
This is essential for users in maritime operations, or in the field that have been injured and require immediate emergency attention. The SPARC comes apart into two separate pieces when the QRB latch is activated, when you are ready to put the carrier together just snap the buckles into each other. "It's as easy as snapping a duty belt in together" says Robert Scott (Owner-Armour Wear).
The SPARC was created in cooperation with the U.S. military and their recent directive for a new weight distribution plate carrier system. This plate carriers intended purpose was perfect balance, and weight distribution for the ground operator. Armour Wear will be the first to offer this technology to the industry, they will be offering this system to the Military, Law Enforcement, and Civilian markets. This system has three main components; the spinal support brace, battle belt system, and plate carrier. The battle belt and support brace are still under development, but the carrier is ready to go. Armour Wear saw the need to bring this product out first. With the addition of the QRB, an operator can click the buckles back together in a snap, and have a working carrier in seconds.
Armour Wear also saw the opportunity to delete the use of any Velcro on the main access points of the carrier, instead the QRB doubles as the carriers retention buckles. Always having the consumer in mind, Armour Wear has the SPARC rated at a $295.95 MSRP.
Learn more at: www.armour-wear.com
About Armour Wear
Since 2014, Armour Wear, LLC has produced light weight, flexible, breathable and durable products in order to give their customers the best protection available. They have also produced top quality OEM products for some of the biggest companies around. You may have even been wearing Armour Wear's products for years and would never have known. Armour Wear, LLC has been on the tip of the spear with innovation and durability using only the best products science can provide. In their new 10,000 sq. ft. facility in Hialeah, Florida, they continue to manufacture the best quality products using their custom design suite, which includes an in house 3D sketch artist that can bring conceptualized renderings to life using 3D printing technology. This helps facilitate the quick production of new product ideas from the minds of the inventors, to the homes of the customer.
For more information, visit: www.armour-wear.com.