Concealed Carry Lifestyle: Potentially Life-Saving Book Presents "Ultimate Guide" to Carrying a Concealed Handgun for Self-Defense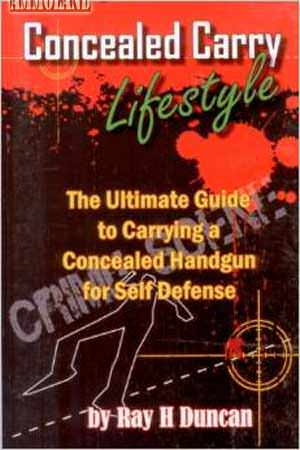 Devine, Texas – -(Ammoland.com)- Written from the wisdom and experience of Ray H. Duncan, 'Concealed Carry Lifestyle' is a must-have guide for those wishing to leave their home, on a daily basis, carrying a concealed weapon.
This bold choice brings many responsibilities with it and, as the author showcases, requires a dramatic shift in lifestyle. Duncan explains all – providing a blueprint for those looking to defend their family and stay true to their constitutional rights.
In the introduction to his compelling new book, Texas' Ray H. Duncan makes the reality clear; the Police will not protect a reader's family, nor are they obliged to. However, a 1791 amendment to the United States Constitution gives readers the noble opportunity to take this protection into their own hands.
But, as Duncan proves, the second amendment is not a matter to be taken lightly. In fact, its intense responsibilities require those looking to carry a concealed weapon to adopt a totally new and different way of life. Duncan provides a blueprint for this in 'Concealed Carry Lifestyle'.
Concealed Carry Lifestyle:
This book explains lifestyle changes for citizens who have concealed weapons permits and those that desire to maintain a safe lifestyle and avoid becoming victims of crime.
"I want to help bridge the gap between people deciding to carry a weapon outside of the home, and doing so in a way that is safe, legal yet ready to be utilized in the correct situation," explains Duncan, who is passionate about helping all CHL holders to develop their lifestyles to accommodate daily carry.

"A defensive gun is used every 13 seconds in the United States, according to statistics from the National Self Defense Survey – but that doesn't mean that they are always used legally. It's certainly not just a case of strapping on a gun and hoping you'll never have to use it."

Continuing, "It's all about being to defend yourself and your family the right way. Believe it or not, each year hundreds of people are killed because they were unable to deploy their weapon in time. I don't want readers to become statistics, I want them to live a safe and happy life while always having the option to use necessary force in a law-abiding way. This new lifestyle does require some radical changes, but when you consider you'll be able to protect your family any time of the day or night, it is worth every second."
With the volume's demand expected to increase, interested readers are urged to secure their copies without delay.
About the Author:
Ray H. Duncan is a sixth generation Texan with roots in Stephen F. Austin s first colony and a fifth generation grandfather who fought at San Jacinto. Author Ray H. Duncan is an avid shooter having entered pistol competition at the age of twelve and competed in military small bore rifle and pistol in High School and College. Ray has been licensed to carry a concealed handgun for over ten years. He was Author and Publisher of Texas Concealed Handgun Magazine. Ray has worked with Law Enforcement during his lifetime and that influence is apparent in this book. Concealed Carry Lifestyle has been an ongoing priority for many years and was published to help all CHL holders to develop their lifestyles to accommodate daily carry.