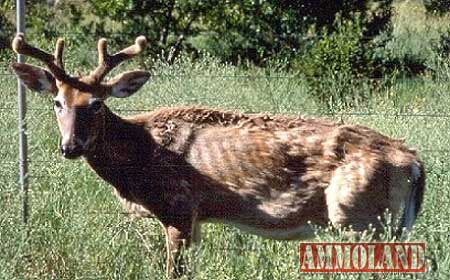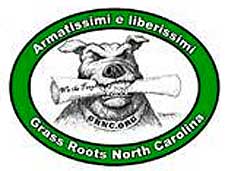 North Carolina –-(Ammoland.com)-What would you say if an Agriculture Commissioner, who has taken at least $18,600 in campaign donations from a wealthy retired CEO and his corporate cronies, were to advocate a bill that could decimate deer hunting in North Carolina?
$teve Troxler and Tom $mith: It's All About The Money
We don't know about you, but the words which sprung to mind here are "cronyism" and perhaps "corruption." The Ag Commissioner in question is our old friend Steve Troxler, who last year illegally posted the last State Fair against concealed carry; the wealthy donor is Tom E. Smith, retired Chief Executive Officer of Food Lion; and the bill in question is Senate Bill 513, "North Carolina Farm Act of 2015," sponsored primarily by Senator Brent Jackson (R-Duplin, Johnston, Sampson), Troxler's old friend (and henchman). What they have apparently colluded to do is to place the interests of a few rich landowners above the state's many thousands of hunters.
The $ad $tory of Mr. $mith
After Mr. Smith retired from Food Lion, he became one of the biggest deer farmers in the state. Where most of the state's 37 remaining deer farms have only 2-5 deer, his herd reportedly exceeds 200. But Smith has a problem: The NC Wildlife Resources Commission (NCWRC) decided to phase out deer farming.
And why would NCWRC do that? The answer is "Chronic Wasting Disease." CWD, which is similar to "Mad Cow" disease, is untreatable, doesn't present symptoms for up to nine years, and can even remain in the ground to infect deer in the future. CWD is typically transmitted in cattle trailers used to transport farmed deer, often to other states, but spreads into wild populations when deer escape or "fraternize" with wild deer through fences. Outbreaks have occurred in Colorado, Saskatchewan, South Dakota, Oklahoma, Nebraska, Michigan, New York and Montana.
For more information on the impact of CWD from commercial deer farming, CLICK HERE or go to: https://grnc.org/troxler-documents
So how did Mr. Smith solve his problem? By buying a couple of politicians, of course. In this case, they seem to be Mssrs. Troxler and Jackson (the latter got only $200 from Smith in the past, but $3500 in 2014 when the scheme was likely hatched), and then introducing legislation to move farmed deer management from NCWRC to the Dept. of Agriculture, where Troxler can promote it for his buddy Tom Smith. (We should note that in addition to Smith, another Food Lion CEO gave Troxler $2000, coincidentally on the same day Smith made a $4000 donation, suggesting there might be other donations to Troxler coordinated by Smith that we don't yet know about. Because this might be only the tip of the iceberg, we will be looking.)
Big Bucks for Big Bucks
Proponents of SB 513 claim it will help the economy through sale of venison. In truth, farmed deer don't produce enough meat to make that economically feasible. But they do produce something worth big bucks to hunters: Huge, carefully bred antlers. Although NC prohibits shooting game in fenced hunting preserves, many other states do not. In fact, one needs to go no further than the Cherokee White Tail Hunting Preserve in Robbinsville, where shooting a large buck commands $14,000 and up.
King $teve $trikes Again
In what appears to be "pay to play" cronyism, Smith gets to expand his deer farm while Troxler would continue to consolidate his own power. Section 14 of SB 513 would transfer control of farmed deer entirely to the Department of Agriculture, allowing him to control licensing and permits for deer farms and transportation of animals – including bringing diseased deer into the state which could decimate the wild deer population by spreading CWD.
IMMEDIATE ACTION REQUIRED
This is our last chance to stop the bill: It already passed the Senate and will get committee hearings this week, likely reaching the floor early next week.
DEMAND THAT COMM.TROXLER PUBLICLY WITHDRAW SUPPORT FROM SECTION 14 OF SB 513: Call AND email Agriculture Commissioner Steve Troxler and let him know in no uncertain terms that you oppose a scheme that puts money into the pockets of a few but could destroy North Carolina's deer hunting heritage. Email him at

[email protected]

AND call him at (919) 707-3000. If possible, call between

9:00 AM and 11:00 AM

tomorrow

.
TELL SPEAKER TIM MOORE TO REMOVE SECTION 14 FROM SB 513: Moore is generally sympathetic to gun owners, but has apparently been swayed by the powerful Commissioner of Agriculture. Email Speaker Moore at

[email protected]

and call him at 919-733-3451.
DELIVER THIS MESSAGE
To Comm. Troxler and Sen. Jackson:
Dear [Commissioner Troxler] or [Senator Jackson]:

By all appearances, you are colluding with one of your rich donors, Tom E. Smith, former CEO of Food Lion and now one of the largest deer farmers in North Carolina, to transfer control of farmed deer to the Department of Agriculture and reverse previous North Carolina Wildlife Resources Commission policy to phase out deer farms.

I thought I had seen the end of this type of cronyism when Republicans wrested control of the state from corrupt Democrats, but I now see I was wrong. Section 14 of Senate Bill 513 ("North Carolina Farm Act of 2015") clearly places the desires of a few rich landowners above the interests of the 335,000 hunters who spend an average of $1507 each year to hunt.

By expanding deer farming – including transportation of deer from other states – you risk decimating North Carolina's wild deer population by accidental introduction of Chronic Wasting Disease (CWD). As you undoubtedly know, commercial deer farming was responsible for CWD outbreaks in Colorado, Saskatchewan, South Dakota, Oklahoma, Nebraska and Montana.

Even if you don't care about North Carolina's hunting heritage, you might want to recall that according to the "2011 National Survey of Fishing, Hunting, and Wildlife-Associated Recreation" conducted by the U.S. Department of the Interior, hunters spend $525,281,000 each year to hunt in North Carolina, meaning your misplaced loyalties could cost taxpayers hundreds of millions of dollars.

Accordingly, I demand that you immediately and publicly renounce support for Sections 14 (a) and (b) of SB 513. If you fail to do so, I will take your silence as tacit approval of what appears to be a "pay to play" scheme which endangers the interests of hundreds of thousands of hunters. I will be monitoring your actions through Grass Roots North Carolina alerts.

Respectfully,
xxxxxxxxxxxxxxx
To Speaker Moore and Rep. Lewis:

Dear [Speaker Moore] or [Representative Lewis]:

By all appearances, Agriculture Commissioner Steve Troxler and Senator Brent Jackson are colluding with one of their rich donors, Tom E. Smith, former CEO of Food Lion and now one of the largest deer farmers in North Carolina, to transfer control of farmed deer to the Department of Agriculture and reverse previous North Carolina Wildlife Resources Commission policy to phase out deer farms.

I thought I had seen the end of this type of cronyism when Republicans wrested control of the state from corrupt Democrats, but I now see I was wrong. Section 14 of Senate Bill 513 ("North Carolina Farm Act of 2015") clearly places the desires of a few rich landowners above the interests of the 335,000 hunters who spend an average of $1507 each year to hunt.

By expanding deer farming – including transportation of deer from other states – Troxler and Jackson risk decimating North Carolina's wild deer population by accidental introduction of Chronic Wasting Disease (CWD). As you may know, commercial deer farming was responsible for CWD outbreaks in Colorado, Saskatchewan, South Dakota, Oklahoma, Nebraska and Montana.

Even if Troxler and Jackson don't care about North Carolina's hunting heritage, they might want to recall that according to the "2011 National Survey of Fishing, Hunting, and Wildlife-Associated Recreation" conducted by the U.S. Department of the Interior, hunters spend $525,281,000 each year to hunt in North Carolina, meaning their misplaced loyalties could cost taxpayers hundreds of millions of dollars.

Accordingly, I strongly urge you to amend SB 513 by removing Sections 14 (a) and (b). Doing so will protect not only hunters, but all North Carolina taxpayers. I will be monitoring the progress of this bill through Grass Roots North Carolina legislative alerts.

Respectfully,
About: Grass Roots North Carolina is an all-volunteer organization dedicated to preserving the freedoms guaranteed us by the Bill of Rights. Our main focus is the right to keep and bear arms. GRNC was central to drafting and passing North Carolina's concealed handgun law and since that time has continued to push for improvements to gun laws. Visit:www.grnc.org