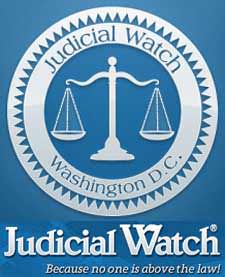 Washington, DC -(AmmoLand.com)- There is a legal reckoning coming for Hillary Clinton's notorious email practices and policies.
There is too much Judicial Watch legal pressure and too many federal court judges for the Obama administration and the Clinton gang forever to avoid the legal consequences of their email shenanigans.  For instance, we are pleased to report that a federal judge has said that the State Department will "have to answer for" any destruction of Hillary Clinton's email records.
S. District Court Judge Rudolph Contreras made the statement at a July 9, 2015, status conference concerning a Judicial Watch Freedom of Information Act lawsuit for records about the State Department's vetting of then-Secretary of State Hillary Clinton's potential conflicts of interest.  The transcript of the July 9 court hearing is available here.

Recall that it was only four months ago, on March 2, 2015, that The New York Times reported then-Secretary Clinton used at least one non-"state.gov" email account to conduct official government business during her entire tenure as the secretary of state.  It also was reported that Secretary Clinton stored these records on a non-U.S. government server at her home in Chappaqua, New York.
There are nearly 20 federal lawsuits that touch on Mrs. Clinton and her staff's use of secret email accounts to conduct official government business. In our various FOIA lawsuits, our lawyers have informed attorneys for the Obama administration that Hillary Clinton's account and any other secret accounts used by State employees should be secured, recovered and searched.
During this particular court hearing, Judicial Watch attorney Chris Fedeli raised the concerns JW had about the preservation of records, especially email records that were not part of the 55,000 records Clinton turned over to the State Department last year.  Apparently, Fedeli struck the right note.
In response, Judge Contreras said he was also "concerned" about the preservation of these records:
If documents are destroyed between now and August 17, the government will have to answer for that, and, you know, if they don't want to do anything out of the ordinary to preserve between now and then, they can make that choice. I will allow them to make that choice, but they will answer for it, if something happens.
After a Justice Department lawyer attempted to assure him that the administration was asking for government records from former State Department employees, Judge Contreras questioned the State Department's position that it had no legal obligation to take additional steps to obtain other government records in the custody of Mrs. Clinton and other former officials who used her special email system:
[I]t is to state the obvious that this is not an ordinary case, and everyone should be working to make sure that whatever documents exist today remain in existence.
Judge Contreras also voiced concerns regarding the State Department's refusal to provide any information about the Clinton email issue:
But I am a little bit mystified that the government is not more forthcoming in just answering questions that will help this case proceed on a systematic basis, and on a basis that will allow everyone to get the answers that will eventually help resolve these cases…
This one court hearing shows that Hillary Clinton and her co-conspirators in the State Department will have to account for each and every email on Hillary Clinton's notorious email system. That's encouraging. It's become clear now to the public at large that Hillary Clinton has been telling fairy tales about the missing emails that are beginning to unravel. "Nothing Mrs. Clinton has said so far on the subject is correct," The Wall Street Journal's Kimberly Strassel has charitably observed.
Again, the reckoning is coming.
The court also seemed to reject the Obama administration's contention that responding to Judicial Watch's lawsuit in a timely way would derail its compliance with Judge Contreras' order in another lawsuit (Leopold v. U.S. Department of State, (15-00123)) requiring that the 55,000 pages of Clinton email records be searched and produced under FOIA by January 2016:
My order in Leopold was based on numbers and percentages. To the extent that documents from that universe are produced in this case, they qualify for the numbers in Leopold, don't they? So that they're not mutually exclusive from a resource standpoint, are they?
The judge then said his "inclination is to have a search done of the Clinton e-mail database that's digitized and searchable for this relatively narrow, in my view, relatively narrow request."
A separate and ongoing Judicial Watch lawsuit forced the disclosure last year of documents that provided a road map for over 200 conflict-of-interest rulings that led to $48 million for the Clinton Foundation and other Clinton-connected entities during Hillary Clinton's tenure as secretary of state. Previously disclosed documents in this lawsuit, for example, raise questions about funds Clinton accepted from entities linked to Saudi Arabia, China and Iran, among others.  Judicial Watch and The Washington Examiner partnered in the first story to break the Clinton conflicts scandal: "State Department approved 215 Bill Clinton speeches, controversial consulting deal, worth $48m; Hillary Clinton's Chief of Staff copied on all decisions."
You can see why the State Department and the Clinton operation have been trying to play a rope-a-dope obstruction game with Judicial Watch, courts and Congress for these emails. But it won't work.
As I write this, news is breaking that Hillary Clinton is the subject of a criminal referral to the Justice Department by two separate inspectors general for an investigation into her potentially criminal mishandling of hundreds of pages of classified information on her email system.  The New York Times broke the story (and may have edited it at the behest of the Clinton campaign), but there is no doubt that there is serious criminal liability for Hillary Clinton.  If the Justice Department, the State Department, or the FBI were all above-board, there would have been law enforcement activity many months ago.  Now we know that the State Department resisted cooperating with the IG investigations.  And we can't trust the Obama Justice Department.  The New York Times tells us that it helping Hillary Clinton's PR effort, too:
On Thursday night and again Friday morning, the Justice Department referred to the matter as a "criminal referral" but later on Friday dropped the word "criminal."
At the Obama Justice Department, politics always comes first, so it is imperative that no less than a special counsel be appointed to investigate this matter.  Under Justice Department regulations:
The Attorney General, or in cases in which the Attorney General is recused, the Acting Attorney General, will appoint a Special Counsel when he or she determines that criminal investigation of a person or matter is warranted and-(a) That investigation or prosecution of that person or matter by a  United States Attorney's Office or litigating Division of the Department of Justice would present a conflict of interest for the Department or other extraordinary circumstances; and (b) That under the circumstances, it would be in the public  interest to appoint an outside Special Counsel to assume responsibility for the matter."
This will be a major ethical test for new Attorney General Loretta Lynch.  In the meantime, we will continue our pursuit for information and accountability in the courts.
"Because No One Is Above The Law"
Tom Fitton
President
Judicial Watch
About Judicial Watch
Judicial Watch, Inc., a conservative, non-partisan educational foundation, promotes transparency, accountability and integrity in government, politics and the law. Through its educational endeavors, Judicial Watch advocates high standards of ethics and morality in our nation's public life and seeks to ensure that political and judicial officials do not abuse the powers entrusted to them by the American people. Judicial Watch fulfills its educational mission through litigation, investigations, and public outreach.
For more information, visit: www.JudicialWatch.org.