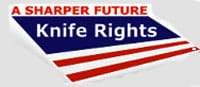 Gilbert, AZ –-(Ammoland.com)- Knife Rights, along with other organizations opposing the proposed Ivory Ban rule recently published by the U.S. Fish and Wildlife Service, has requested that the comment period be extended an additional 30 days.
USFWS spent over a year developing this rule, the least they can do is allow those who will be significantly harmed by this rule the maximum allowable time to comment fully on it.
USFWS chose to allow only a 60 day comment period which closes on September 28. However, the law provides for up to a 90-day comment period, which is especially appropriate for rulemaking that adversely affects millions of citizens.
The proposed rule would severely restrict the import, export and, most critically, the interstate sale of legally-owned decades-old elephant ivory, causing immense harm to American knife owners, knifemakers, scrimshaw artists and suppliers to knifemakers and scrimshaw artists, as well as millions of other Americans that currently own ivory or items that incorporate ivory. Given the breadth of the impact this proposed rule would have on law-abiding decades-old legal ivory owners across the U.S., including small businesses, we believe the 60 days allotted by the USFWS is not sufficient.
Knife Rights abhors the poaching of all species. The proven solution is to attack poaching at the source, not punish lawful ivory owners in the U.S. who cannot have any effect on poaching in Africa.
You can read Knife Rights' letter to USFWS Director Ashe here: http://www.kniferights.org/extension_ivory_kr_08122015.pdf
You can read about the proposed Federal Ivory Ban rule here: http://www.kniferights.org/index.php?option=com_content&task=view&id=344&Itemid=1
Knife Rights is working with our partners in the many organizations opposed to this rule to develop effective, well-reasoned and coherent arguments against this rule that we'll ask you to submit as comments. That will take some time to put together.
The most important thing you can do RIGHT NOW is to contact your U.S. Representative and Senators to ask them to co-sponsor the African Elephant Conservation and Legal Ivory Possession Act of 2015 which would protect owners of legal ivory in the U,S. while providing for additional conservation and anti-poaching efforts in Africa. Click for more information.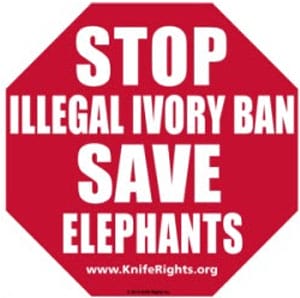 About:
Knife Rights (www.KnifeRights.org) is America's Grassroots Knife Owners Organization, working towards a Sharper Future for all knife owners. Knife Rights is dedicated to providing knife owners an effective voice in public policy. Become a Knife Rights member and make a contribution to support the fight for your knife rights. Visit www.kniferights.org