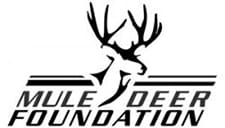 Salt Lake City, UT -(AmmoLand.com)- The Secretaries of Agriculture and the Interior announced today that Miles Moretti, president of the Mule Deer Foundation (MDF), would join 17 other representatives on the Wildlife and Hunting Heritage Conservation Council (WHHCC).
The WHHCC is a federal advisory committee providing guidance and recommendations to the Administration on opportunities to preserve our hunting heritage and conserve the nation's wildlife populations.
"This is truly an honor for the Mule Deer Foundation and for me. Serving on this Council provides us with a tremendous opportunity to carry forward the critical conservation work that must occur for mule deer conservation and our hunting heritage," Moretti stated. "I look forward to working with my fellow members of the Council to advise Secretary Jewell and Secretary Vilsack and the agencies that they oversee on the issues that will make the biggest impact for our western wildlife species and the future of hunting."
The Council meets periodically throughout the year to provide federal land and wildlife management agencies with recommendations on conservation issues and ways to promote and enhance recreational hunting opportunities. The Council members represent a diverse array of conservation, hunting and environmental organizations.
Moretti's first meeting with the WHHCC will occur in Washington, DC in early September.
About MDF:
The Mule Deer Foundation is the only conservation group in North America dedicated to restoring, improving and protecting mule deer and black-tailed deer and their habitat, with a focus on science and program efficiency. MDF is a strong voice for hunters in access, wildlife management and conservation policy issues. MDF acknowledges regulated hunting as a viable management component and is committed to recruitment and retention of youth into the shooting sports and conservation.
Get involved at www.muledeer.org or call 1-888-375-3337.