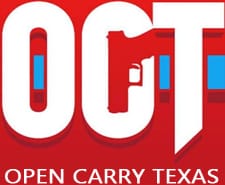 Temple, TX -(AmmoLand.com)- Open Carry Texas (OCT) founder and president, CJ Grisham, announced today that he is stepping back from leading the gun rights organization in order to pursue a potential bid for Texas Senate District 24.
Troy Fraser, the current Senator in the seat for more than 27 years, has announced that he will be retiring and not seeking re-election. OCT was founded as a grassroots gun rights organization in an effort to fight for more gun rights in Texas. Under his outstanding leadership, we were instrumental in making Texas the 45th state to "legalize" open carry.
He spent a great amount of time working with lawmakers in the House and Senate to gain support for many pro-gun bills, including campus carry and state preemption of knife rights. CJ worked closely with other pro-gun groups as well as KnifeRights.org to help them get their legislation passed.
In his place, OCT Vice President David Amad will take over leadership duties as we work to build momentum and support for constitutional carry in the 85th Legislature. OCT will be conducting educational seminars at colleges and in cities across the state in an effort to ensure a smooth transition to implementation of open and campus carry during the interim.
We wish CJ the best as he undertakes this new challenge. We know that he will continue to be a stalwart champion for gun rights and constitutional values in Texas.
About Open Carry Texas
Our purpose is to 1) educate all Texans about their right to openly carry rifles and shotguns in a safe manner; 2) to condition Texans to feel safe around law abiding citizens that choose to carry them; 3) encourage our elected officials to pass less restrictive open carry legislation for all firearms, especially pistols; and (4) foster a cooperative relationship with local law enforcement in the furtherance of these goals with an eye towards preventing negative encounters.
For more information, visit: www.opencarrytexas.org.