New Plano Deluxe Bow Guard Recurve Bow Case Provides Premium Protection for Traditional Takedown Archery Gear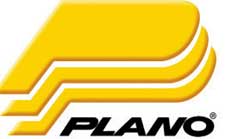 Plano, IL -(AmmoLand.com)- Traditional archers trust their instincts – honing their own intuitive shooting styles by nocking, drawing back and releasing thousands of arrows.
With enough repetitive practice, the arrow strikes its mark in the archer's mind before it ever leaves the bowstring. The hunting archer who carries primitive gear into the field pursues a primal bond with the game he or she pursues. The experience is timeless, and the harvest – like his or her equipment – is beautifully fundamental.
A traditional archer's timeless hunting experience can't take place if his or her bow doesn't survive the journey. But that's an unnecessary worry. The protection pros at Plano have persevered in creating a deluxe case for safe passage of traditional takedown archery gear.
Helping sportsmen keep their valuable gear organized and protected for over 60 years, Plano announces the availability of premium protection for traditional takedown bows with the new Plano Deluxe Bow Guard Recurve Bow Case.
Classic Plano durability is evidenced in this case's thick, molded shell, which wears attractive and utilitarian alligator texturing to combat wear. Further, the lid is molded with a stylish and functional diamond crest to increase rigidity. A full aluminum valence surrounds both case pieces, which are joined by a full-length piano hinge for maximum strength. Other hardware is equally task-minded.
Four steel latches – two of which lock with keys – provide security, while twin foldaway handles facilitate easy opening and transport. Inside, interlocking high-density foam forms a secure and rattle-free nest for precious riser, limbs and accessories.
Plano Model 11303 Deluxe Bow Guard Recurve Bow Case:
Dual Key-Lock Latches
Foldaway Handles
Aluminum Valence
Full-Length Piano Hinge
Interlocking Foam
Airline approved
Exterior Dimensions: 38″ x 12.5″ x 4.5″
Interior Dimensions: 37.5″ x 11.25″ x 3.88″
MSRP: $99.99
About Plano Molding
The traditionalist always finds beauty in fundamental simplicity. A tool that performs its intended job with efficiency will always be appreciated – whether it's a fine takedown bow or the vessel that guards it from damage. Protect your tradition with the new Plano Deluxe Bow Guard Recurve Bow Case.
Learn more at www.planomolding.com.