Chapters and membership levels reach new high, 500,000 acres impacted in first 10 years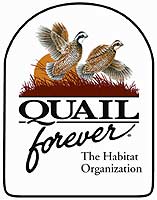 St. Paul, MN -(AmmoLand.com)- August 10th, 2015 marks the 10th anniversary of Quail Forever, the leader for quail conservation efforts in the United States.
The nonprofit organization boasts more than 15,000 members and 152 chapters in 27 states – all current organizational records – support that has helped Quail Forever improve more than 500,000 acres of habitat for quail since 2005.
Pheasants Forever launched Quail Forever in 2005 to address the habitat loss behind rapidly-declining quail populations. Ten years later, and fueled by Quail Forever's unique local model, new chapter growth continues, and veteran chapters are celebrating a decade of significant habitat accomplishments. The first chapter to form, the Gateway Chapter of Quail Forever in St. Louis, will hold its 10th anniversary banquet in October, and the extremely active Oklahoma 89er Chapter of Quail Forever will celebrate its 10th anniversary at its annual fundraiser on August 15th. Find your local chapter of Quail Forever.
Quail Forever chapters have contributed $3.1 million to the organization's mission of wildlife habitat conservation. Quail Forever has also supported the creation and implementation of targeted, voluntary conservation practices that continue to provide critical quail habitat, including the State Acres for Wildlife Enhancement practice and the Habitat Buffers for Upland Birds practice, both of which are part of the federal Conservation Reserve Program.
"Quail Forever, along with partners and state agencies, is turning the tide for quail conservation," stated Howard Vincent, president and CEO of Pheasants Forever and Quail Forever. "We've gained significant momentum for quail in our first 10 years, but realize the work for restoring coveys is only just beginning. The need is great and the obstacles are many, but Quail Forever is prepared to meet the challenges of the next decade by employing our proven model for wildlife habitat conservation. If you are an upland hunter, now is the time to join our habitat mission for quail."
In celebration of Quail Forever's 10th anniversary, the 2016 National Pheasant Fest & Quail Classic will play host to a quail symposium – bringing together quail biologists and experts from across the country to discuss strategies to protect and restore quail habitat throughout the United States.
National Pheasant Fest & Quail Classic presented by Federal Premium Ammunition will be held at the Kansas City Convention Center February 19, 20 & 21, 2016.
About Pheasants Forever
Pheasants Forever, including its quail conservation division, Quail Forever, is the nation's largest nonprofit organization dedicated to upland habitat conservation. Pheasants Forever and Quail Forever have more than 140,000 members and 700 local chapters across the United States and Canada. Chapters are empowered to determine how 100 percent of their locally raised conservation funds are spent; the only national conservation organization that operates through this truly grassroots structure. Since creation in 1982, Pheasants Forever has spent $577 million on 489,000 habitat projects benefiting over 12 million acres nationwide.
For more information, visit: www.quailforever.org and www.pheasantsforever.org.