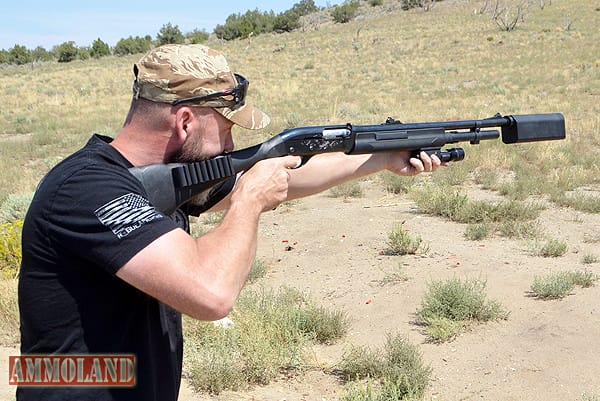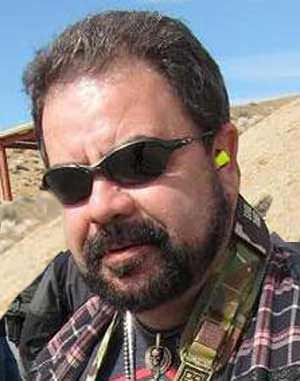 USA -(Ammoland.com)- When most "gun guys" saw the 2007 film, 'No Country for Old Men', they scoffed at the film's villain toting a Remington semiautomatic shotgun with a silencer on the end of it.
Most shooters did not know that such a thing existed, including those who dabble in the NFA side of things.
As uncommon as they are shotgun silencers have been with us for a while, but the first widespread commercially available one would be the Silencerco Salvo Shotgun Silencer that debuted in 2014.
We decided that we wanted to test one out and let our good friends at SilencerShop.com know about it and they got one out to us immediately. We opted for the 8″ configuration; thinking any shorter would be a time waster and any longer would be truly unwieldy.
One of the truly innovative parts of the Silencerco Salvo Shotgun Silencer design is its modularity. The "baffles" can be taken out or added in like Legos to customize the overall length.
Shotguns are a bit different to suppress than say a pistol or rifle due to the different ammunition types. Rather than a solid single bullet travelling down the barrel, a shotgun fires multiple projectiles held in place by a wad. It almost sounds like the makings of a potential baffle strike.
That disaster is averted by an internal rail system that keeps the wad centered while it is propelled through the silencer. Just another cool aspect to the design!
Silencerco Salvo Shotgun Silencer The Good
The Silencerco Salvo Shotgun Silencer mounts via the choke tube system. We had two shotguns set up for Rem-choke: a Remington 870 pump-action in an 18″ configuration and an 1100 semiautomatic with a 21″ barrel. Screw in the mount like you would with any choke, attach the Salvo and tighten a flange nut to the rear of the silencer with an included spanner when you have it aligned. Installation took less than 3 minutes.
It works as advertised and brings the shotgun down to hearing safe levels. We did not feel any reduction in recoil, but did perceive the 1100 to cycle smoother and actually seem quieter.
We ran bird shot, buck shot and duplex field loads and we experienced no malfunctions of any sort with either the 1100 or the 870.
Silencerco Salvo Shotgun Silencer The Bad
Silencerco went through a great effort to keep the weight down and make a modular can that is end-user configurable, but the length does affect speed, particularly if you are trying to use it for bird hunting or clay shooting.
We ran it on two relatively short tactical shotguns, on a longer 12 gauge with a 26″ barrel you would be looking at an overall length of 34″ with our configuration. A longer barrel may dissipate more sound, so the solution there may be to make the silencer shorter.
Unfortunately, due to our short loan window and what we had available, we were not able to test this.
The price is a bit on the high side due to materials, design complexity, etc. For that price, I was expecting a little less noise. This probably has more to do with the fact that a rifle can of the same price range gets you close to "Hollywood Quiet" and in the case of the Salvo the author can best describe it as similar to shooting a 22 short or subsonic through a long rifle barrel without a silencer.
It is definitely hearing safe, just not the quietest can we have ever heard.
Silencerco Salvo Shotgun Silencer The Reality
The Silencerco Salvo Shotgun Silencer is no hush puppy and if you are expecting "pew-pew-pew" out of your shotgun, it's not going to happen. If your only shotgun is an un-choked 18" home defense pump shotgun and you shoot it once in a while but just want a Salvo for the "cool factor"; there are other NFA items you can get more satisfaction from.
However, if you are a serious hunter or clay shooter and run your shotguns often (particularly with hunting dogs or with small groups of people) or a true NFA Gearhead who wants to see a really innovative modular piece, it may make sense if you can fit it in your budget.
With silencers now legal in 41 states (and the last few are absolute havens for bird hunters), there may be a dilemma in finding a Salvo for immediate transfer. If your local dealer does not have one in stock and is not set up with Silencerco, you may want to contact SilencerShop.com. The folks at Silencer Shop make the NFA process ridiculously easy for new people in the game and the company has done as much if not more to promote responsible silencer ownership and education than anyone else in the industry. Their loan of the Silencerco Salvo Shotgun Silencer can made this review possible.
About Mike Searson
Mike Searson's career as a shooter began as a Marine Rifleman at age 17. He has worked in the firearms industry his entire adult life as a Gunsmith, Ballistician, Consultant, Salesman, Author and was first certified to teach firearms safety in 1989.
Mike has written over 2000 articles for a number of magazines, websites and newsletters including Blade, RECOIL, OFF-GRID, Tactical Officer, SWAT, Tactical World, Gun Digest, Examiner.com and the US Concealed Carry Association as well as AmmoLand Shooting Sports News.