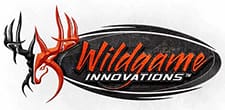 New Roads, LA -(AmmoLand.com)- Out-of-the-way spots can be the ticket for big bucks, but remote locations make it difficult to use and access feeders and trail cameras.
Wildgame Innovations' Buck Commander Hex is the perfect feeder for those secret buck hideouts, or those who hunt alone. While the Hex won't break your back or the bank, it's loaded with all the features you need to establish a feeding program and keep an eye on your deer herd. With a 225-pound capacity, you can go extended periods without having to fill the Hex. It sets up in 5 minutes with no tools, and the no-shine, bark-texture 30-gallon poly barrel is built to last.
Assembled, the Wildgame Innovations Hex Feeder stands 6 feet tall – perfect for easy filling – and the built-in funnel virtually eliminates waste. While feeding deer is one thing, hunting setups require the ability to control when that food is available. The Hex comes with Wildgame Innovations' new digital power control unit with 24 available feed times, and the galvanized steel spinner plate resists varmints and has a 30-foot, 360-degree dispersion radius.
For the ultimate in convenience, the feeder also comes with a Wildgame camera mounting bracket. Having your camera mounted on the feeder reduces time and disturbance while also allowing you to keep a close eye on buck size and patterns.
Big bucks don't often show up where it's convenient or easy to hunt them, but that doesn't mean you can't maintain a productive feeding program. Check out the Wildgame Innovations Buck Commander Hex if you want to hunt where other feeders can't go.
Buck Commander Hex Feeder Features:
225lb capacity | 30ft/360 degree range
No-tool, 5-minute assembly
Wildgame camera mounting bracket
No shine, deep bark texture finish
Stands 6ft tall for easy fill
Durable 30gal/225lbs poly barrel design
Build-in funnel reduces feed waste
Newly designed digital power control unit
24 available feed times
Galvanized steel spinner plate
6V battery operation
Includes varmint-resist spinner plate
LFZ – Large Feed Zone = more deer
For more information on Wildgame Innovations Buck Commander Hex Feeder, please visit: www.wildgameinnovations.com.
About WGI Innovations, Ltd.
WGI Innovations, Ltd. is the distinct leader in the game scouting camera, feeder and outdoor electronics market. Wildgame Innovations strives to provide big game hunters and game management professionals with the latest and greatest in outdoor innovation. Our lines of feeds, seeds, and attractants are specially formulated to keep your herd healthy, active and growing year after year.
For more information, please visit www.WildgameInnovations.com.