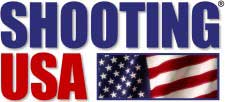 Nashville, TN -(AmmoLand.com)- Shooting USA – The IPSC World Shoot
It's the handgun world championship that begins with the parade of nations, as the IPSC World Shoot returns to the U.S. after more than 25 years. The best in the world are competing in the sport, with the modern technique Jeff Cooper created more than 40 years ago. Plus, the breechloader that would change gun-making forever. The Hall Carbine is one of History's Guns.
 Shooting USA's Impossible Shots – Jerry's World Record Reloads
Smith & Wesson Pro Jerry Miculek attempts to set a new speed record with his revolver that may be the fastest reloads ever caught on camera. Plus, Mr. Flintlock, George Sutton, tries flipping a coin with a .50 caliber round ball.
 AIR TIMES BY TIME ZONE
The Shooting USA Hour Wednesday:
Eastern Time: 3:00PM, 9:00PM, 12:30 AM Thursday
Central Time: 2:00 PM, 8:00 PM, 11:30 PM
Mountain Time: 1:00 PM, 7:00 PM, 10:30 PM
Pacific Time: 12:00 Noon, 6:00 PM, 9:30 PM
Shooting USA is listed as a one-hour show in your cable menu.
Shooting USA's Impossible Shots:
Wednesday:
Eastern Time: 1:00 PM, 11:30 PM, 3:00 AM Thursday
Central Time: 12:00 Noon, 10:30 PM, 2:00 AM Thursday
Mountain Time: 11:00 AM, 9:30 PM, 1:00 AM Thursday
Pacific Time: 10:00 AM, 8:30 PM, 12:00 Midnight
The Longest Running Rifle Match in History
The PALMA Trophy Match began in New York in 1876, and has been held all over the world since. And, for the first time in nearly two decades, the World Championship of Long Range Rifle Shooting returns to America at Camp Perry. Our crew is headed to Ohio to meet the U.S. team, and catch the action. Stay tuned!
Stay Connected
Be sure to "Like" Shooting USA on Facebook for behind-the-scenes coverage: https://www.facebook.com/JimScoutten.ShootingUSA
And, on Instagram!
https://instagram.com/shootingusa
Jim
Defending the 2nd by Example in the 22st Year
[email protected]
About Shooting USA
Jim Scoutten, America's Most Watched Firearms Reporter, has been on the beat for 14 years, reporting the stories of the Shooting Sports and the firearms Industry. The show produces a series of popular segments focusing on historical guns, the personalities in the sport and industry, insider reports from gun tests, and practical tips from shooting sports pros. The show appeals to shooting sports enthusiasts of all ages and skill levels by providing practical tips on safely handling, modifying and repairing their favorite guns.
For more information, please visit www.ShootingUSA.com.