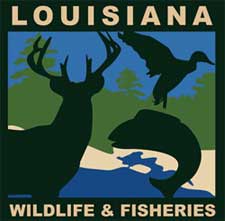 Louisiana -(Ammoland.com)- A Louisiana Department of Wildlife and Fisheries Enforcement Division agent cited two men for alleged alligator violations in Grant Parish on August 18.
Sgt. Chad Watts cited Samuel Daniels, 38, and Patrick Daniels, 43, both from Colfax, for taking alligators during a closed season and taking alligators without a license.  LDWF agents are still searching for a third subject who is believed to be involved and is being sought for questioning.
Sgt. Watts began investigating the case after receiving information from detectives with the Grant Parish Sheriff's Office and a Probation and Parole agent concerning possible alligator violations.
During the investigation 12 different alligator heads and carcasses that were recently harvested were discovered behind the subject's residence.  Inside the subject's residence a large amount of alligator meat was discovered in two freezers.
Patrick Daniels and Samuel Daniels were interviewed and admitted to harvesting alligators in an oxbow off of the Red River on the Aug. 14 and 15.  They said they snagged the gators using rods and reels equipped with treble hooks.
Taking alligators during a closed season carries a $400 to $950 fine and up to 120 days in jail.  Taking alligators without a license brings a $250 to $500 fine and up to 90 days in jail.  The men could also face civil restitution charges totaling $4,509.60 for the illegally taken alligators.
For more information, contact Adam Einck at 225-765-2465 or [email protected]