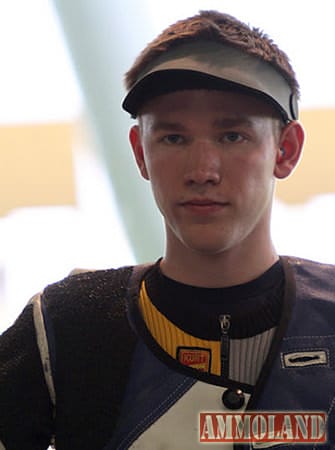 Colorado Springs, CO -(AmmoLand.com)- More than 50 USA Shooting Team athletes are en route to the final and largest International Shooting Sport Federation (ISSF) World Cup of the season beginning August 8 in Gabala, Azerbaijan.
Not only are World Cup medals and Olympic Team selection points on the line, this World Cup also marks the final opportunity for Rifle and Pistol athletes to earn coveted Olympic quota slots, helping make this the largest World Cup of the season with 1,106 athletes competing from 90 countries.
A quota spot is essentially the entry ticket necessary for a country to compete in Olympic competition in a particular discipline. A country is allowed to earn up to two quotas in each event, and an athlete can win only one quota for his/her country – regardless of the discipline. So far, Rifle and Pistol athletes have earned 13 of the possible 20 quotas available. The U.S. has already secured the maximum number of quotas in Men's Rapid Fire Pistol, Prone and Air Rifle. Thirty-four Olympic quotas will be available at this World Cup with two available in each event, except Air Rifle and Air Pistol events where three will be available for each. For a list of international quota winners in all shooting events, click here.
Shotgun athletes will also have the opportunity to earn Olympic quotas, but in addition to this World Cup, they'll have another opportunity at the ISSF Shotgun World Championship in Lonato, Italy later in September. The U.S. has filled all but two events and only needs three more Shotgun quotas: One in Women's Trap and two in Men's Trap.
Looking to earn those 10 remaining Olympic quotas will be a mix of newer and seasoned talent. Ryan Anderson (Wasilla, Alaska), who won a bronze medal in Men's Three-Position Rifle at the Pan American Games last month in Toronto, Canada, will look to garner a quota in Men's Three-Position or Air Rifle this time in Azerbaijan. Should he secure a quota in either event, he would be ineligible to win a quota in the other.
Olympians Brian Beaman (Selby, South Dakota) and Brenda Silva (Snowflake, Arizona) will also be pulling double duty, competing in two pistol events and looking to earn the remaining quota in either one. Beaman will shoot Men's Free and Air Pistol, and Silva will shoot Women's Sport and Air Pistol. Courtney Anthony (Lexington, Nebraska), who set a Pan American Games record in Air Pistol Qualification last month, should also be expected to fare well and contend for one of the three quotas in that event.
Erin McNeil (U.S. Army Marksmanship Unit/Fort Wayne, Indiana) will make her second World Cup appearance and is the lone hope for the final Women's Three-Position Rifle quota. McNeil – a 300m Three-Position Rifle specialist – won a bronze medal in that event at last year's World Championships, but also shot world-class scores at this year's National Championships finishing second overall. In Women's Air Rifle, Virginia Thrasher (Springfield, Virginia) is the lone U.S. competitor eligible for a quota as teammates Sarah Beard (Danville, Indiana) and Amy Sowash (Richmond, Kentucky) won Olympic quotas at the World Cup earlier this year in Fort Benning. Thrasher, who will shoot for NCAA National Champions West Virginia later this fall, claimed silver at this year's National Championships to earn her World Cup team appointment.
Looking to win the first quota in Men's Trap are Pan American Games teammates Myles Walker (Elkhorn, Wisconsin), Jake Wallace (Castaic, California), along with Anthony Matarese, Jr. (Pennsville, New Jersey), who has made a name for himself in the Sporting Clays world.
The hopes for the lone remaining Women's Trap quota rest on the very capable shoulders of Kayle Browning (Wooster, Arkansas) and Kimberley Bowers (Lafayette, California) who won silver and bronze at the Pan American Games.
When an athlete wins an Olympic quota, it does not guarantee him/her a slot on the Olympic team. Olympic team slots will be determined through a separate selection procedure. For more quota and Olympic points info, check out the Rio in Sight informational page here.
Action begins with the first Final of the World Cup – Women's Skeet – on Saturday, and runs through August 15. For a complete schedule of events at this World Cup, click here. Follow along with the ISSF Live Ticker here.
About Winchester Ammunition
Winchester The American Legend is a global leader in sporting, law enforcement, military and personal defense ammunition production. Winchester continues to raise the bar with new products like Deer Season XP, Long Beard XR and W Train and Defend personal defense ammunition.
Visit www.Winchester.com for product information or connect with us on Facebook at Facebook.com/WinchesterOfficial.
About ELEY
ELEY is a Proud Sponsor of the USA Shooting Rifle and Pistol Teams: ELEY Limited, manufacturer of the world's most consistently accurate rimfire ammunition, has been the Official Sponsor and Official Supplier of .22 rimfire ammunition of the USA Shooting rifle and pistol teams since 2000.
For more information on ELEY and their products, please visit www.eley.co.uk.
About USA Shooting
USA Shooting, a 501c3 non-profit corporation, was chartered by the United States Olympic Committee as the National Governing Body for the sport of shooting in April 1995. USA Shooting's mission is to prepare American athletes to win Olympic medals, promote the shooting sports throughout the U.S. and govern the conduct of international shooting in the country.
Check us out on the web at usashooting.org and on Twitter at twitter.com/USAShooting.