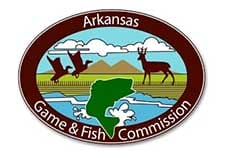 Arkansas -(Ammoland.com)- A passion for the outdoors and its activities is deeply rooted in Ryan Nast, a corporal in the Enforcement Division of the Arkansas Game and Fish Commission.
Nast has been named 2015 Wildlife Officer of the year for the agency.
Nast is a fifth generation resident of Batesville and was introduced to quail hunting by his grandfather, Jimmy Nast, as soon as he was able to carry a gun and keep up with dogs. Nast went on to graduate from the University of Arkansas Community College and Batesville and joined the Game and Fish Commission soon after.
Over the past year, he was involved in 169 violation cases, and these included five hunting out of season, five night hunting, four hunting turkey over bait, six boating under the influence, one use of electronic caller in turkey hunting, and one taking over limit of game animals.
Nast has been active in more than 32 community public relations programs, and these include Fellowship of Christian Athletes, Upward Bound students, Ducks Unlimited, National Wild Turkey Federation and local fundraising charities. He is on a 5-member advisory board of a local shooting range that has over 16,000 rounds of skeet and trap shot annually.
Nast is the lead cardiopulmonary resuscitation (CPR) instructor for the Game and Fish Commission. In addition to instructing six classes in the last year, he has reorganized the state program which resulted in certifying additional instructors and providing all enforcement districts with CPR lifesaving skills training.
Nast is married to his high school sweetheart Deanna Ring Nast, and they have four children Katelyn (17), Elizabeth (10), Rebekah (9), and Jon-David (6).