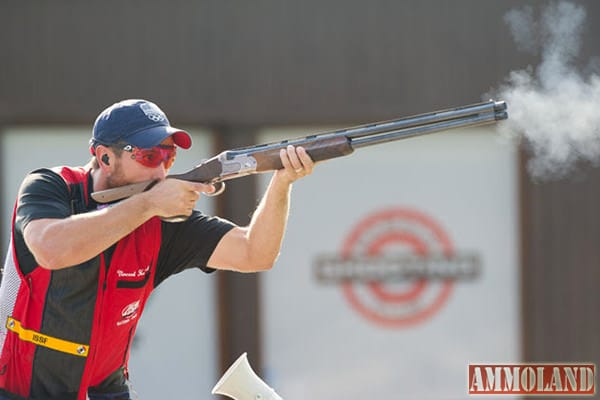 Colorado Springs, CO -(AmmoLand.com)- Less than a year to go until the 2016 Olympic Games and the skeet world has been put on notice: Olympic gold goes through Vincent Hancock and today, at an International Shooting Sport Federation World Cup in Gabala, Azerbaijan, he proved why once again with another gold-medal run.
Of course, even before today it's not hard to figure given the fact that Hancock (Eatonton, Georgia) is the reigning two-time Olympic gold medalist, but his form of late suggests beating him next August will be more difficult than ever.
He declared as much following today's win. "This victory just put me on the U.S. Olympic Team for 2016. And I really want to shoot my third gold medal in a row at the Olympics. I can start planning what matches I am going to be going to, so that I can peak at the perfect spot: at the Games."
Technically, Hancock did indeed qualify for a spot on the 2016 Olympic Team today having amassed enough points within USA Shooting's Olympic Points System to earn outright selection and thus avoid going through the Olympic selection match process. However, the official designation of such won't happen until after Shotgun World Championships and World Cup Final. All Olympic Team nominations must be submitted and approved by the U.S. Olympic Committee. The U.S. has earned two Olympic quotas in Men's Skeet and the second spot will be determined through the Olympic selection match process.
Hancock qualified with an almost-perfect score of 124 hits, missing only his very first target on the first day. In the semifinal, he cleared the round with a perfect 16, advancing to the gold-medal match where he met Austria's Sebastian Kuntschik. The two athletes battled right to the last shot, missing one target each and ending up with a tie score of 15 hits. Hancock prevailed in the subsequent shoot-off hitting six targets to Kuntschik's five, and collected his seventh ISSF World Cup Gold since 2005.
"It has been an amazing experience here," Hancock added. "It was a long trip getting to Gabala, but having another gold medal is certainly what I came here for. But nothing really means anything until we get to Rio. That's my ultimate goal, that's what I want. I want to get another Olympic gold medal."
Pan American Games gold and silver medalists, TJ Bayer (College Station, Texas) and Dustin Perry (Lovelady, Texas), struggled to find their consistency following the long trip to Gabala. Bayer finished 23rd with a 120 while Dustin Perry was 65th with a 116. Hancock's win combines nicely with the silver medal earned by his skeet teammate Morgan Craft (Muncy Valley, Pennsylvania) earned Saturday. For full Men's Skeet results, click here.
The 2015 ISSF Rifle, Pistol and Shotgun World Cup in Gabala, featuring 1100 athletes from 90 countries, will continue Monday with the U.S. women hoping Virginia Thrasher (Springfield, Virginia) can get the job done with an Olympic quota still available.
To view live finals or for more info, check out www.issf-sports.org.
About Winchester Ammunition
Winchester The American Legend is a global leader in sporting, law enforcement, military and personal defense ammunition production. Winchester continues to raise the bar with new products like Deer Season XP, Long Beard XR and W Train and Defend personal defense ammunition.
Visit www.Winchester.com for product information or connect with us on Facebook at Facebook.com/WinchesterOfficial.
About USA Shooting
USA Shooting, a 501c3 non-profit corporation, was chartered by the United States Olympic Committee as the National Governing Body for the sport of shooting in April 1995. USA Shooting's mission is to prepare American athletes to win Olympic medals, promote the shooting sports throughout the U.S. and govern the conduct of international shooting in the country.
Check us out on the web at usashooting.org and on Twitter at twitter.com/USAShooting.