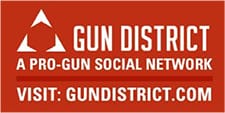 Lake Charles, LA -(AmmoLand.com)- Legally Armed America Inc., the pro-gun network of companies dedicated to preserving the Second Amendment and enriching the shooting sports lifestyle, today announced WASPcam as the official action-sports camera of Legally Armed America TV and Gun District.com.
"The shooting sports are one of the most exciting sports to film and among the most exhilarating to watch," said Paul Glasco, President and Founder of Legally Armed America.

"We're stoked to be working with WASPcam HD Action-Sports Cameras and proud to be among the first companies in the firearms industry to partner with a camera manufacturer that wholeheartedly supports our industry. We recognize that the shooting sports are an emerging market for action cameras and we made a conscious choice to partner with a company that's confident in its relationship with firearms enthusiasts whether they're 3-Gun competitors, backyard target shooters, or a gun-related television show," Glasco added.
According to WASPCam Vice President of Sales and Marketing, Paul Crouch, "Our partnership with Legally Armed America TV gives us added insight into the world of shooting sports. Combined with our mission of enhancing WASPcam product categories to fulfill the needs of today's shooting sport enthusiasts, we're prepared to continue with product evolution and enhancements relevant to the diverse needs of today's shooters," he said.
"With WASPcam, fans get an immersive experience and firsthand look at the obstacles shooters tackle as they practice, train, and compete," said Glasco. "The versatility and rugged design of the WASPcam 9900 Series cameras along with the Gideon Wireless Wrist Remote, make them ideal for capturing the intensity of the sport from multiple perspectives including the shooter's.  We're looking to create and share the most invigorating, action-packed video with these cameras," he continued.
Exclusive video content will be featured on Legally Armed America TV as well as Legally Armed America's social media sites including Gun District.
"We'll host several online giveaways on Gun District.com for fans eager for a chance to win their own WASPcam, so join now," Glasco said.
About WASPcam
At WASPcam we're more than just an action-sports camera, we're a lifestyle. We understand that not everyone picking up an action-sports camera plans on producing full-length feature films or motion pictures. Many will create professionally polished edits with a WASPcam, and we're happy if they do, but the majority of users simply want to capture their passion, wildest moments or biggest achievements, and instantly share those clips with friends and fans online—And they want it to be easy. That's our goal at WASPcam: building user-friendly, high-quality action-sport cameras that are simple and straightforward for pros AND amateurs alike. And we strive to do it all at a much more affordable price. For more information visit us at www.waspcam.com, Facebook (www.facebook.com/waspcam), Twitter (www.twitter.com/WASPcam) and Instagram (www.instagram.com/waspcam).
About Gun District
Gun District is a social networking service catering to those who share a reverence for the Second Amendment, guns and the outdoor lifestyle. Created in the spirit of camaraderie amongst people, organizations and companies with common interests, Gun District embraces the belief that restrictions on learning, sharing or purchasing guns or gun-related products is not a true representation of freedom. Responsible gun enthusiasts visit Gun District free from discrimination. Join today at GunDistrict.com, membership is free. For more information, please visit www.GunDistrict.com. Free mobile apps can be found by visiting Apple App Store and Android Market.
About Legally Armed America
Legally Armed America is a heart-pounding cable and web television show created for gun-lovers by gun addicts and dedicated to people who want to stay informed about the latest firearm-related products, events, news and just about anything gun related. Legally Armed America covers everything from useful reviews on the most exciting products, to supplying the latest gunsmithing techniques and tips. Field reporting from shooting competitions and industry events, as well as the most up-to-date news on gun legislation and gun control round out the dynamic show. The show is hosted by "a bunch of guys who grew up around guns, love the fact that our Constitution affords us the God-given right to purchase and own them, and appreciate the loads of responsible range time we get to spend with them." Legally Armed America is an NRA News Official Partner.
For more information, visit: www.LegallyArmedAmerica.com.