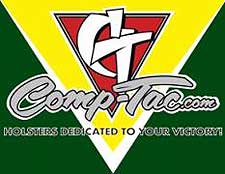 Houston, TX -(AmmoLand.com)- Comp-Tac Victory Gear, LLC; a leading manufacturer of concealed carry, general range use, competition and leather, Kydex hybrid holsters, has released 9 holster fits and holster spare bodies for the Springfield Mod 2 firearms.
Comp-Tac offers the largest selection of concealed carry holsters including inside the waistband, outside the waistband, all Kydex and hybrid holster options. The Comp-Tac competition holsters are the most popular holsters on the market and have been voted the most popular at the IDPA Nationals three years in a row. Comp-Tac holsters offer superior fit and retention adjustment allowing each user the ability to carry comfortably and securely.
Comp-Tac makes many different holsters for Springfield firearms. With the release of the Mod 2 Comp-Tac revamped the entire Springfield line and updated their holsters to be compatible with the XD line, the XD(M) line and the new Mod 2. Available in three different lengths: a 3" slide, 4" slide and 5.25" overall length customers can now purchase these Springfield fits fits in the following holsters:
Comp-Tac is also offering all spare body options for the Springfield Mod 2. If customers already own a Comp-Tac MTAC, Neutral Cant or Spartan they can purchase a spare body for their Springfield Mod 2.
For more information on the full line of Comp-Tac holsters and gear, visit www.Comp-Tac.com, follow Comp-Tac on Facebook at www.facebook.com/CompTac, Twitter at @CompTac or visit our Blog.
About Comp-Tac Victory Gear, LLC:
In 2000 I started Comp-Tac with the intention of designing holsters of the highest quality for defensive and competition shooting. I started off with the Locking Paddle and over the years have designed over 30 products with 92,000 possible variations to accommodate your lifestyle and needs. Comp-Tac has grown from a one man shop to a business with dozens of employees. What started in my garage has grown into a drafting room, production line, customer service department, shipping department, and leather shop. Thanks to the great support of our customers and through their input we continue to grow and refine our product line. Whether you are competing for fun or in the fight for your life, no company offers more holsters dedicated to your victory.
For more information, please visit www.Comp-Tac.com.