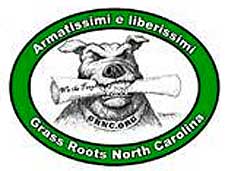 Raleigh, NC -(Ammoland.com)- Did Ag Commissioner Steve Troxler know deer are being illegally smuggled into North Carolina?
What about sponsors Sen. Jackson & Rep. West? Transporting wildlife without permits is a federal felony…
Just when you thought the "pay to play" deer farming scheme which could decimate hunting by bringing Chronic Wasting Disease (CWD) into the state couldn't get any worse, GRNC has received reports that some or all of the players may have known for some time that deer are being illegally smuggled – without permits – onto the Cherokee Indian Reservation for use in "canned" hunts.
If true, such deer smuggling would not only violate North Carolina law, but also federal law under The Lacey Act – prohibiting interstate transportation of wildlife without a permit – making it a federal felony. That's right, canned hunting brings in big bucks and, with it, corruption. Just days ago, in the biggest deer trafficking case thus far, a Georgia man received a record $1.6 million fine, while his accomplice got twenty-one months in jail.
NCWRC knew about deer smuggling.
According to the letter received by GRNC from wildlife advocate and professional lobbyist Randal Raney, NC Wildlife Resources Commission (NCWRC) Chief Deputy Director Mallory G. Martin admitted that NCWRC knew deer were being imported to the reservation from Ohio without permits, potentially exposing the state's indigenous deer population to CWD.
If the NCWRC Chief Deputy Director knew, what about his boss, Executive Director GORDON MYERS? If Myers knew, what about Agriculture Commissioner STEVE TROXLER? Remember, Troxler, Myers and Senator Brent Jackson stood shoulder-to-shoulder at a press conference to promote the deer farming scheme – a scheme hatched by Troxler and retired Food Lion CEO Tom E. Smith – now the state's largest deer farmer – that would resume issuing deer permits and transfer control over importation of deer from NCWRC to the Agriculture Department.
About Grass Roots North Carolina:
Grass Roots North Carolina is an all-volunteer organization dedicated to preserving the freedoms guaranteed us by the Bill of Rights. Our main focus is the right to keep and bear arms. GRNC was central to drafting and passing North Carolina's concealed handgun law and since that time has continued to push for improvements to gun laws.
For more information, visit: www.grnc.org.