By Norman Gray
Mossberg 510 Mini Turkey THUG Shotgun Review
Arizona – -(Ammoland.com)- I have fond memories of hunting with my dad and helping carry his well-used Mossberg 500 shotgun into the field.
Those memories also include how heavy and long that 500 was to an 11 year old and me wishing they made a shotgun sized for kids.
The only fix at that time was to purchase an extra stock and barrel and have your local gunsmith do a bit of surgery.
Luckily for kids everywhere, the too much shotgun era has passed away and Mossberg has put that issue to rest with their Mossberg 510 Mini Turkey THUG Shotgun, 510 All-Purpose and 510 Mini – Muddy Girl youth pump action shotguns. Designed from the ground up with youth in mind, it grows with your son or daughter and allows them to focus on the hunt not the length and weight.
What a novel concept, why didn't someone think of this years ago?
Now there are hunters who like to hunt and then there are hunters who live to hunt and one thing fathers and mothers long for is the day when they can take their kids into the field with them. Holding up that extra weight is hard for some kids and adults, "trust me I know," they're not able to stay on target very long unless the weight is supported. The overall length has a negative effect causing them to lean backwards when they shoot.
My oldest son fell into this category and since he was over a foot shorter than all the other kids his age and he struggled with this. He's older and stronger now and has more years of shooting under his belt, but still favors a shotgun that's built for his stature.
Mossberg 510 Mini Turkey THUG Shotgun
When I received the Mossberg 510 Mini Turkey THUG Shotgun for testing I showed it to my oldest son, to say he liked it would have been an understatement, he couldn't wait to shoot it. What I wasn't prepared for was my wife's reaction to the 510, she liked it as well. At 5'3" she has the same issues with larger, heavier shotguns as my son does. They both enjoyed shooting the Mossberg 510 and that my friends made for a happy husband, father and hunter. As writers we're obligated to report the cold hard facts along with our knowledgeable opinion in the hopes of selling you on the featured product. After witnessing my wife and son's reaction to the 510, it sold me and allowed my whole family to appreciate the art of shotgunning again.
The 510 is taken from Mossberg's Bantam and Super-Bantam youth lines, just reduced so it fits younger hunters without sacrificing the features found on its big brother. A smaller adult may find the 510 fits well enough to allow them to hunt or shoot clays pigeons without the handicaps experienced with a full size shotgun. I'm sure by now you're also wondering what the acronym T.H.U.G.S stands for.
It's the name of the hunting series, "Turkey THUGS" sponsored by Mossy Oak and it stands for Todays Hunters United for Good. Mossy Oak contributes a portion of the licensing proceeds from the sales of all Turkey and Deer THUGS gear to help veterans.
The Mossberg 510 Mini Turkey THUG Shotgun comes with a full, modified and improved choke tubes, choke tube wrench, black padded QD sling, owner's manual and lock. Mossberg has also included two company stickers for your young shooter to express their pride in ownership. If your young hunter or shooter is small, then the 510 comes ready to use out of the box, if they're a bit larger or an adult, you can add the included one inch spacer to the stock. Simply take off the recoil pad and add the spacer using the included longer screws and re-attach the recoil pad. I recommend that younger and new shooters first experience with the 510 be on a family trip to the range or favorite shooting spot.
If it's their first shotgun, start them with the lightest box of 20 gauge 2 ¾ loads you can find and adjust up as they become more confident , then in their time, work them up to heavier three inch loads. Plastic bottles filled with colored water or skeet suspended from strings or propped up will provide fun exploding targets they can concentrate on while shooting. Once they realize the recoil is manageable and won't hurt them they will begin to have fun and will want to shoot more and eventually you may have to drag them home. Down the road they may be willing to attempt slugs for deer if you live in a place that only allows shotgun hunting. All this will give them the confidence they need for the field and help them work out any fears they may experience along the way.
When I confiscated the 510 back from my oldest son to finish this article, I still couldn't get over the size and weight. It took a few minutes for me to wrap my mind around a functioning miniature 20 gauge shotgun you can hold in one hand. Even though my nine year old told me that the Mossberg 510 Mini Turkey THUG looked like the toy shotguns you find in Wal-Mart, he knows better from all my repeated training.
Younger kids tend to look at firearms as toys and the Mossberg 510 Mini Turkey THUG Shotgun certainly looks like one, but a steady routine of firearms safety will help keep it real. I took my oldest son to a pond and told him to shoot into the mud bank with the 510. After shooting one 20 gauge, 2 ¾, #8 shot, he looked at the large hole it left and realized the power and responsibility he held in his hands. Of course you know your child better than anyone and what it will take to teach this critical lesson in firearms safety.
The Mossberg 510 Mini Turkey THUG Shotgun is just as stout as the larger models with all the controls being in the same spot, so if you own a Mossberg 500 Shotgun and your child is familiar with it, their learning will be simplified. The 18.5" vented rib barrel threading is smooth and easy for a child to change their own choke tubes. The two bead sighting system is easy for kids to use.
The large white front bead is easily seen in any lighting conditions and when used in conjunction with the brass rear alignment bead, aiming is easy. The pump action was a bit stiff in the beginning, but like most pumps, it began to loosen up and smooth out with use. By its very nature the forgrip is designed for small hands, but they are large enough to accommodate an adult's hands effectively and employs diamond type checkering and finger holds on both sides for a firm secure grip.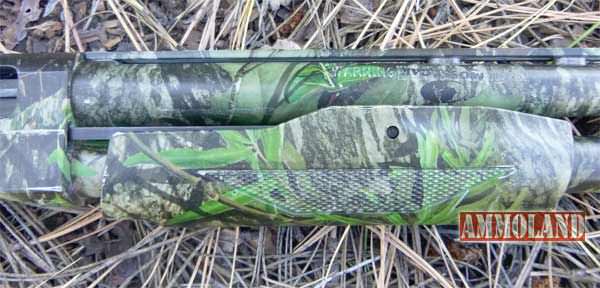 The aluminum receiver is drilled and tapped (threaded) with four holes to accept either a Weaver style base or Picatinny rail mount. This gives you great flexibility to choose the appropriate sight for your hunting needs. The trigger, action lock lever and safety button are all steel as they are high stress parts while the trigger housing is a high impact polymer. The safety, as with all Mossberg shotguns, is on the top of the receiver and easily accessible with your shooting hand thumb. The safety is off when forward and on when rearward and the red dot is covered. On the ejection port side of the shotgun are the words, "MOSSY OAK TURKEY THUGS," written in black letters and the opposite side is action lock lever and serial number.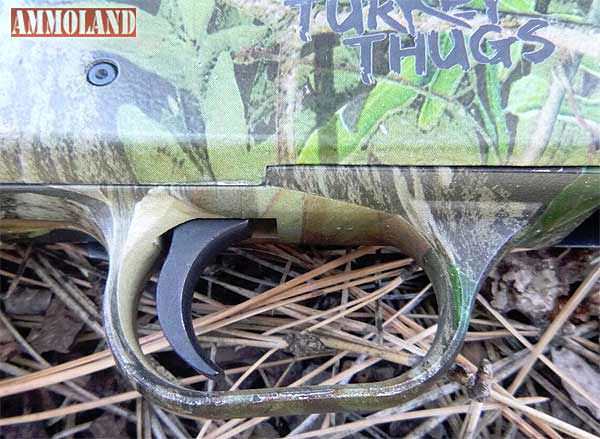 The stock is a pistol grip design and offers a good secure hold with both sides being diamond checkered. It's well suited for smaller hands, but my XL hands had no issues making it work. The LOP (Length of Pull) is 10 ½ inches without the one inch spacer and 11 ½ inches with it installed. The recoil pad is nice and soft to absorb recoil, but the three inch turkey loads will still let you know you're alive.
My youngest son, just 8 at the time, did not like want any part of a second shot with turkey loads.
The Mossy Oak Obsession pattern covers the entire shogun and where it does not, the parts are matte blue. A few rub spots were apparent where the forgrip rubbed the receiver on both sides, but a black sharpie will touch this up quickly and of course the vitality of the pattern depends on how hard the shogun is used in the field.
Out of the box, the Mossberg 510 Mini Turkey THUG Shotgun will only hold one round in the chamber because the extra-long limiting plug will not allow any rounds to be loaded into the magazine. After successful firearms training the adult can cut down the wooden limiting dowel to 9" to comply with the local hunting laws. After this the 510 will hold four, 2 ¾ or 3 inch shells with the limiting plug removed and with the modified limiting plug installed it will now hold one in the chamber and two in the magazine.
To remove the limiting plug, first unload all ammunition and remove the sling, then remove the barrel by taking out the takedown screw. Point the shotgun towards the ground and shake it back and forth until the dowel protrudes from the magazine tube. The rubber "O" ring will keep it from falling out, grab the end and remove it.
Patterning a 12 gauge shotgun is normally done at 40 yards with an extra full turkey choke and 3" or 3.5" turkey loads. Patterning the 20 gauge 510 with its full choke and 3" turkey loads worked best between 25 to 35 yards depending on the load. I like to pattern and hunt with a Primos Jim Shockey Tall Tri Pod because it adjusts from 24″ to 62″ with a squeeze of the trigger. It's also great for kids and adults to use as a walking stick while hunting and then to stabilize their shot either sitting or standing. I used Birchwood Casey's Turkey Splattering Targets to mark the shot hits and recorded the results below. For the slugs I used Caldwell's Orange Peel 12" Bullseye Targets and achieved a 3.2 inch group at 50 yards with just the front bead sight. Since all firearms shot different, you'll have to find your ideal range with the loads you choose and find what load your child is comfortable using in their 510.
Depending on how much you shoot and the conditions you shoot in, I suggest you completely disassemble your shotgun once a year for a good thorough cleaning. If the environment you're shooting in is wet, cold and muddy, you should clean the shotgun as soon as possible to avoid rust. Mossberg recommends you clean your shotgun every 200 rounds of normal shooting, followed by regular lubrication to keep your shotgun performing well. Shotgun dis-assembly is nothing more than attention to detail. The Mossberg owner's manual cover the dis-assembly and re-assembly process thoroughly and after several times you will have the procedure down. Dis-assembly past this point is not recommended by the manual, and only to be done by the factory or a qualified gun smith and could possibly void your warranty.
Mossberg 510 Mini THUG Shotgun ǀ Test Results
Patterns were fired from a supported position at a range of 25 to 35 yards using a Primos Jim Shockey Tall Tri Pod Trigger stick and Birchwood Casey Turkey Splattering Targets. Slug results were recorded using the Caldwell Orange Peel 12" Bullseye Target. Patterning results will vary from shotgun to shotgun so you must conduct your own pattern testing using your preferred ammunition. Velocities were as stated from the manufacturer except the Hornady SST FTX slugs which were run through a CED Millennium 2 chronograph at 15 feet.
Living vicariously through my wife and sons time with the Mossberg 510 Mini Turkey THUG Shotgun was the answer to my youthful wish from all those many years ago. Today's young shooters and hunters don't have to settle for good enough like I did and for this I'm glad. This was my oldest son's first true experience with Mossberg and soon it will be his younger brother's turn, but I know it definitely will not be their last. I still take my father's well-loved Mossberg 500 out to the field shooting dove and that old dog still hunts well. Introduce, "if you haven't already," your kids to the sport of shotgunning and take them to the skeet or trap range or the field and hunt.
I guarantee any of these great Mossberg youth shoguns will help you build some fun and lasting memories your kids won't forget.
O.F. MOSSBERG & SONS | Mossberg 510 Mini Turkey THUG Shotgun Specs:
Item number: 50495
Gauge: .410 or 20 Gauge (20 Ga. tested)
Capacity: 4 – 2 ¾ & 3" – 1 with plug
Barrel Length: 18.5" Vented rib
Chokes: Accu-Set
Chamber: 3"
Overall Length: 35.25" with spacers and recoil pad – 34.25" without spacer
Weight unloaded: 5 lbs.
Stock: Adjustable Synthetic
Action: Pump
Trigger Pull: 6-7 lbs.
Length of Pull: 10.5" – 11.5"
Receiver Finish: Mossy Oak Break-Up Infinity
Front Sights: Dual bead
MSRP: $515.00
Warranty: 10 years
Address: O.F. Mossberg & Sons, Inc. 7 Grasso Ave. North Haven, CT 06473
Phone: (203) 230-5300 (8 a.m. – 4:30 p.m. E.S.T.)
Fax: (203) 230-5420
For Service Inquiries: (800) 363-3555
Sources:
---
Check this video of more tiny 8 year olds taking their first shots with a different model Mossberg 510 Mini Shotgun.
About Norman Gray:
Norman Gray has been involved in the shooting sports for well over 30 years. He has served in both active duty and reserve component of the United States Army as an Infantryman and was honorably discharged at the end of his service. Moving to Arizona, he began assisting his long time friend and mentor Bob Shell, an accomplished writer and author in his own right. Norman is freelance contributor with Handguns Magazine, Canadian Firearms Journal and Manzano Valley Outdoors. He is also a member of (POMA) The Professional Outdoor Media Association, the (NSSF) National Shooting Sports Foundation and a Life Member of the (NRA) National Rifle Association. Visit: http://www.unleaded-ink.blogspot.com/