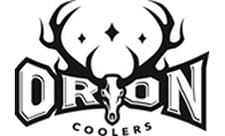 Sparta, TN -(AmmoLand.com)- Orion Coolers announces it has signed a sponsorship agreement with the Gun It with Benny Spies presented by Leupold television show.
"With fun colors and lots of room for food and beverages, Orion Coolers adds fun to outdoor activities," explained Orion Coolers Brand Manager Damon Bungard. "Like us, Benny Spies knows how to have fun in the outdoors and make the most of every adventure. We're happy to partner with Benny Spies and his show. Look for our coolers in Benny's '73 RV 'Toaster'."

"Hey EVERYOUTDOORSMAN!" said Benny Spies. "Just like many of you, when we're in the field or on the water, we need a good cooler to keep our stuff cold so that's why I trust and carry an Orion Cooler. I've had beer in mine all summer and it's still cold!"
Orion Coolers have a number of features and innovations unique to the premium, rugged cooler market:
Multi-color, camo plastic blend exteriors make every single Orion cooler unique. Pick from Forest Camo, Jungle Camo, Sky Camo or Dorado
YakAttack gear tracks allow for adding accessories without drilling. Add holders for fishing rods, phones, cups, cameras, fish finders, GPS and more with RAM accessory integration
Four aluminum tie down points at each corner that double as bottle openers and two additional tie down points on either side for secure transport
Low-profile, camming latches that are hinging for ease of use and snag-free when loading or using the cooler as a fly fishing casting platform
Lockable via padlocks on the corners, both to secure the cooler and to seal it shut
A grippy standing pad comes standard with all Orion Coolers providing a stable, comfortable platform when standing or sitting.
Strong, motorcycle-style carry handles with reinforced climbing ropes provide long lasting comfort and sure grip in tough conditions
MADE IN USA for quality craftsmanship and rugged construction. Orion Coolers are molded by molding experts right next to Jackson Kayaks in Sparta, Tennessee
Constructed with a rugged, roto-molded polyethylene shell and at least 2" of insulation  for durable performance
A solid thermoformed plastic tray inside the cooler allows for drainage but won't let smaller items fall through like they would with standard wire mesh trays found elsewhere
A removable, Princeton-Tec AMP1 light, provides lighting inside the cooler at night or remove it for use around camp at night. This Made-in-USA waterproof light easily twists on and off and includes a flood lamp cone to illuminate the cooler contents with soft light. Remove the light and cone and you have a high power LED light for use around camp, on the boat or anywhere you need it. It also has a bottle opener on it.
Smart, real-world sizing accommodates common items like wine, 2 liter bottles or a case of cans that can stand upright. They also fit on common hitch haul carriers, behind a kayak seat and within airline baggage requirements (model dependent)
Available in four sizes– Orion 25, Orion 45, Orion 65 and Orion 85.
About Orion Coolers:
Based in Sparta, TN, Orion Coolers produces premium rugged coolers with enhanced features and durable performance. The Orion Cooler team of designers, molding experts, hunters, anglers and kayakers is committed to developing products that will perform in the harshest environments. All products are field tested in extreme conditions by a team of dedicated outdoor enthusiasts before new designs are approved and released to the public. Orion Coolers are produced alongside Jackson Kayak known for exceptional whitewater kayaks, fishing kayaks, recreational kayaks and stand up paddleboards. Orion Coolers. Never Lose Your Cool.
Learn more at www.OrionCoolers.com.
About Gun It with Benny Spies presented by Leupold TV Show:
For six years, Benny Spies has proudly represented the average outdoorsman, weekend warriors and part-time hunters on his show. Benny shares his hunting trips in an appealing authentic way. No scripts, no set-ups, just a regular guy from South Dakota hunting with his family and friends. Viewers look forward to Benny yelling "ROOOOOSTEEER", his '73 RV named "Toaster" and his fun-loving antics before, during and after the hunt.
Learn more at Gun It with Benny Spies presented by Leupold. The show airs on The Sportsman Channel and Wild Hunting & Fishing Network.