Chapter to elevate conservation efforts for bobwhites in Pittsburg & Latimer counties, next meeting on Sept. 24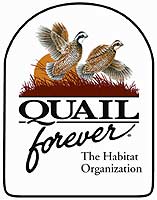 Talihina, OK -(AmmoLand.com)- Quail hunters in Oklahoma have added the first chapter of Quail Forever in the state's southeastern region.
Officially known as the Southeastern Oklahoma Chapter of Quail Forever, the new committee is building its presence in Pittsburg and Latimer counties with hopes of increasing bobwhite quail numbers through local habitat improvements.
"Southeastern Oklahoma has witnessed low quail populations over the last 10 years, but with the help of our chapter and the support of local resources, we hope to make a difference here for bobwhites," stated Mike Dyer, president of the Southeastern Oklahoma Chapter of Quail Forever. "This chapter is going to be a community effort and I would encourage anyone interested in hunting and conservation to attend our upcoming chapter meeting – it's time to bring back the bobwhite in the southeast."
Much of southeastern Oklahoma does not provide high-quality quail habitat due to extensive changes in land use that have been detrimental to quail, such as conversion of native prairie to exotic grasses and encroachment of timber due to lack of fire. On a positive note, in areas where good habitat persists, 2015 quail surveys showed a 100 percent upturn in bobwhite quail abundance over 2014 levels – a significant increase from the previous four years. However, southeast Oklahoma still remains 67 percent below the 26-year average of roadside quail surveys.
"The Southeastern Oklahoma Chapter of Quail Forever is a group of passionate quail hunters who have identified a need for conservation efforts and banded together for the benefit of wildlife habitat," said Laura McIver, regional field representative for Quail Forever in Oklahoma. "This new local group is the only one of its kind in the southeast, and I'm confident they can and will provide a helping hand for bobwhites and other wildlife."
Southeastern Oklahoma Chapter of Quail Forever:
The Southeastern Oklahoma Chapter of Quail Forever has elected Mike Dyer of Talihina as president, Ruben Elizarde of McAlester as treasurer, and Belinda Delaby of Talihina as secretary and youth education chair.
The chapter will hold its next meeting on

Thursday, September 24

, at the residence of chapter president, Mike Dyer, beginning at

6:30 p.m.

(5620 SE 210th Road – Talihina, Oklahoma 74571). Hunters and conservationists interested in joining the chapter as a volunteer are encouraged to attend.
For more information about the chapter or to become involved, please contact chapter president, Mike Dyer, at (407) 953-7003 / email.
Quail Forever in Oklahoma
Oklahoma is home to 10 Quail Forever chapters, and nearly 1,000 members of "The Habitat Organization." For more information about Quail Forever in Oklahoma, contact Laura McIver at (907) 750-2600 / email.
About Quail Forever:
Pheasants Forever, including its quail conservation division, Quail Forever, is the nation's largest nonprofit organization dedicated to upland habitat conservation. Pheasants Forever and Quail Forever have more than 140,000 members and 700 local chapters across the United States and Canada. Chapters are empowered to determine how 100 percent of their locally raised conservation funds are spent, the only national conservation organization that operates through this truly grassroots structure.  Since creation in 1982, Pheasants Forever has spent $577 million on 489,000 habitat projects benefiting 12 million acres nationwide.
For more information, visit: www.quailforever.org.