Rock Island, IL -(AmmoLand.com)- The September Premiere Auctions seem to be getting more popular every year.
Maybe it's the hospitable Illinois weather this time of year or maybe the Annual Bar-B-Que that follows our Preview Day with its live music, cold drinks, and lip smackin' smoky ribs from local favorite Jim's Ribs. All those things undoubtedly enhanced the event, but we all know the real attraction of the 2015 September Premiere Firearms Auction was the amazing selection of the 2,800+ collector firearms.
Gun enthusiasts flew in from across the country and drove for hours to attend the event at the world's #1 firearm auction company, and they were not disappointed. High condition guns were abundant in nearly every conceivable collectable genre, as were historic pieces, significant prototypes, early variations, and high art masterpieces. Five world class collections led the way and paved the way to success as the three day event drew a realized total of over $13.6 million dollars.
Day 1 of the auction was a jump start to an incredible weekend. A packed auction hall, TWO camera crews, and an incessantly buzzing phone bank made sure that the action simmered all day long. Even within the first hour of the auction, bids for firearms were soaring over their high estimates!
Lot 48 held an antique Winchester Deluxe 1873 with a high estimate of $3,500, but could not be had for less than the winning bid of $10,350. Just before lunchtime lot 303 came up for bid – a historic Cole Agee engraved and gold plated Colt Single Action Army documented as being Roy Rogers' holster gun! Love for the "King of the Cowboys" still runs strong as the fancy little revolver more than doubled its high estimate by selling for $57,500. High end shotguns also saw a lot of activity that day. Browning Citori shotguns were consistently selling high, but a true overachiever was the engraved A.H. Fox XE Grade double barrel 20 gauge shotgun in lot 427. With its mutton case, this classic fowling piece shot down its high estimate of $4,500 and brought $17,250.
Day 2 was easily the most exciting day of the weekend. The action began when the G.S. Cooke Collection of 1885 Winchesters began performing admirably, but experienced an early crescendo when lot 1120 came across the block. It contained a Revolutionary War used Brown Bess flintlock musket with a virtual library of accompanying research as well as an authentic period diary! This piece had every right to be behind museum glass, but instead it found a new steward in a firearms collector who paid $126,500 for the privilege of its company, well exceeding the $85,000 high estimate.
A mere 15 lots later a harmonica rifle made by J. M. Browning, father of the prolific John Moses Browning, was offered to the public and inspired a spirited bidding battle. The bids marched upwards on lot 1135 past its $100,000 high estimate, before finally selling for $138,000.
The highest achieved price of the auction took place during lot 1621 when a Krieghoff manufactured German FG-42 paratrooper rifle proved that last year's high sale price of an FG-42 for $299,000 was no random spike. This fully automatic beauty surpassed that number and settled in at a comfortable $322,000.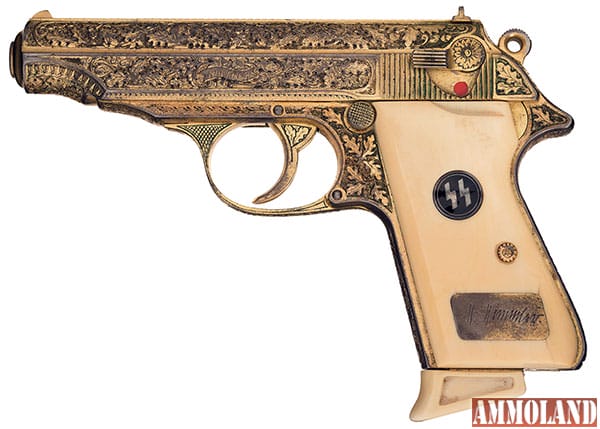 Though the most exciting lot of the day, and arguably the weekend, was yet to come. Lot 1657 held an exceptionally rare and historic Walther PP handgun that had been deeply factory engraved and gold washed to serve as a Heinrich Himmler presentation pistol. The gun had been captured in Germany by a U.S. serviceman, whose family had owned it ever since. Since they had held on to it since its discovery in Germany, this gun had never been seen before by collectors and was as "fresh" as it gets, though a near identical, consecutively serial numbered version does reside in the West Point Academy Museum.
The bidding had barely begun, creeping quickly from the opening bid of $75,000 to $100,000, before a voice at the back of the room rang out, "One hundred and fifty thousand dollars." The room went silent briefly before the auctioneers picked up again asking for the next bid of $160,000. Upon receiving it from a phone bidder, the voice cried out immediately, "Two hundred thousand!" More than a few looks were cast rearward to see the determined bidder, and the auctioneers continued, now seeking $220,000 for the alluring pistol. It too came from the phones and no sooner had it done so than another bid was called from the back, "TWO HUNDRED FIFTY!" and audible gasps could be heard in the auction hall. That princely sum would turn out to be the nail in the coffin and the gold washed Walther was sold for a realized price of $287,500. All the action even elicited a response from RIAC Owner and President Pat Hogan who said from the podium, "I like the way you bid!"
As if that weren't enough, Day 2 also saw President John F. Kennedy's National Match M1 Garand in lot 1807 trounce its high estimate by riding a wave of international publicity to a final price of $149,500. This is a world record price for an M1 Garand that broke the previous record that RIAC had set less than 5 months earlier for the shop model M1 Garand bearing serial number "7."
One wouldn't think that after the high prices and excitement of Day 2 that Day 3 would be able to hold its own, but it had more than enough surprises up its sleeve. Colts turned out to be the surprise of the day as 1911 and Woodsman pistols consistently surpassed their high estimates and the red hot "snake guns" continued to enjoy their popularity and increased values. But various single lots throughout the day made their own commotion and continued to exemplify the incessant growth of the gun collecting hobby. Lot 3492 brought a rare and documented Mauser Prototype Luger pistol to the sale. This pre-production test Luger easily passed its estimate of $5,000 – $10,000 and achieved $23,000 by a savvy collector.
Another prototype also saw success in lot 3552. It contained a scarce Japanese Hamada Type 2 pistol prototype, serial number 33, and an impressive host of blueprints and design documents from the collection of the inventor, Bunji Hamada! A Japanese Military enthusiast who recognized the significance of the lot, willingly surpassed the $16,000 high estimate and won this incredible assortment for $31,625. German military pieces would continue to be a strong performer on this day, and in the auction as a whole. Exemplary prices on Day 3 included a cased Model 1893 Borchardt in lot 3575 that was won for $37,375, despite having a high estimate of $25,000, and a DWM Model 1934 Turkish Contract Luger in lot 3564 that nearly doubled its $25,000 high estimate by earning a final price of $48,875.
What an amazing auction weekend! Delicious bar-b-que, gorgeous weather, the excitement of having camera crews on hand, stunning firearms, five World Class collections, impressive bids, enthusiasts from across the country, live music, and even a visit from the Director and Senior Curator of the NRA Museums(!) all came together to make a memorable and successful weekend. Old favorites showcased their staying power and some renewed interest showed up in some unexpected places.
All in a weekend's work at the place the collecting public has made the world's #1 firearms auction house for 11 straight years.
About Rock Island Auction Company:
Rock Island Auction Company is the world's #1 auction company for firearms, bladed weapons and militaria. Founded in 1993 by its current Owner and President Patrick Hogan, RIAC continues to set records for sales and to lead the industry with its extensive and beautiful marketing efforts. Their 86,000 square foot facility hosts 5 auctions each year. They actively seek consignments, be it a single weapon or a collection of hundreds, a thousand dollar item or one million.
For more information, please visit www.rockislandauction.com or call 1-800-238-8022.