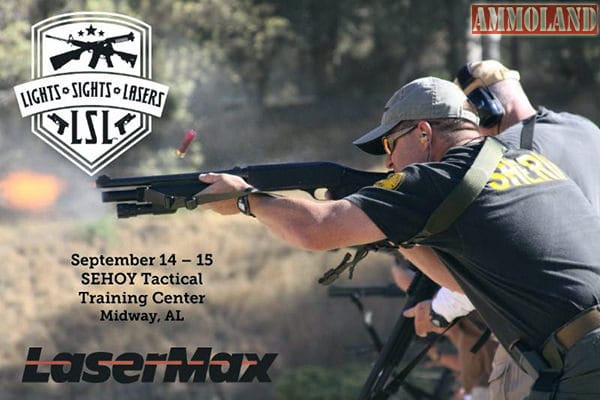 Rochester, NY -(AmmoLand.com)- The world-class SEHOY Tactical Training Center in Midway, Alabama will host Stop 14 of the 2015 Lights, Sights, Lasers US Tour on September 14th and 15th.
Founded by Wes Doss of Khyber Interactive Associates, the LSL Tour provides cost-free training for military personnel, law enforcement officers and security specialists on the use of rapid acquisition sight systems and illumination tools to aid in operational success. LaserMax is a proud title sponsor of the 2015 Lights, Sights, Lasers US Tour.
The LSL Tour will present its advanced curriculum aided by LaserMax sights and illumination tools to twenty stops around the United States over a 9-month time span. For more information on the LSL Tour, visit: www.lslustour.com.
Complete information on LaserMax products is available at www.lasermax.com or by phone at (800) 527-3703. For the latest LaserMax news, follow LaserMax on Instagram, Twitter, Facebook, and YouTube.
About LaserMax:
Now in its 26th year, LaserMax is a leading innovator of premium laser systems with a growing portfolio of significant patents. Specializing in the design and manufacture of rugged and innovative firearm sighting solutions for military, law enforcement and commercial markets worldwide, the company also delivers premium laser products and optical systems for the semiconductor, aerospace, biomedical and telecommunications industries. LaserMax is an ISO 9001:2008 certified and WOSB 8(m) certified Women-Owned Small Business and was recently recognized as one of the fastest growing companies in the U.S. by Inc. 500 | 5000.
For more information, visit: www.lasermax.com.