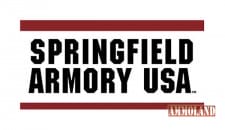 GENESEO, IL (AmmoLand.com) – Now through Sept. 11, Springfield Armory is holding an auction of a Limited Edition 1911 TRP Operator engraved handgun on GunBroker.com, with 100 percent of the proceeds going to Veterans Airlift Command in commemoration of Sept. 11. The auction will conclude on Friday, Sept. 11.
The handgun is one of only two made and is engraved with an American flag, numbered and comes in a specially designed commemorative case that also contains a 9/11 Challenge Coin. A Veterans Airlift Command Challenge Coin will accompany the shipment in a separate container.
Veterans Airlift Command provides free air transportation to post-9/11 combat wounded and their families for medical and other compassionate purposes through a national network of volunteer aircraft owners and pilots.
For more information or to bid:
http://www.gunbroker.com/Auction/ViewItem.aspx?Item=504572681
Learn more about the 1911 TRP Operator:
http://www.springfield-armory.com/products/1911-trp-45-acp/
Learn more about Veterans Airlift Command:
http://www.veteransairlift.org/index.html
About the Springfield Armory 1911 Series:
Springfield Armory began offering newly manufactured 1911s to the buying public in 1985, after the U.S. military had begun the process of retiring the model. The next 28 years firmly established Springfield Armory as the leading manufacturer of 1911s, the standard by which all other 1911s are judged today. After 102 years and untold billions of rounds of .45ACP, American shooters, law enforcement and elite military units the world over still rely on the 1911 in their daily work.
About GunBroker.com
GunBroker.com is the world's largest gun auction website. Launched in 1999, GunBroker.com is an informative, secure and safe way to buy and sell firearms, ammunition and hunting/shooting gear online. GunBroker.com promotes responsible ownership of guns and firearms. Aside from merchandise bearing its logo, GunBroker.com sells none of the items listed on its website. Third-party sellers list items on the site and Federal and state laws govern the sale of firearms and other restricted items. Ownership policies and regulations are followed using licensed firearms dealers as transfer agents.
GunBroker.com is owned by IA Tech, the parent company for a host of whole business solutions including Media Lodge, which delivers 16 million of the industry's most engaged outdoor enthusiasts across digital and video with more than 30 websites and the GetZone video syndication and destination. Media Lodge is vertically integrated to help brands reach and influence enthusiasts in authentic and powerful ways.