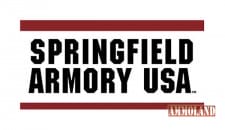 GENESEO, IL (AmmoLand) – There's one last "Thirty Thursday" in which to participate for Springfield Armory's September-long DUEL 3 promotion. Today the company will be giving away 30 prize packages for a combined value of $4,500.
Thirty lucky winners will receive a Brite-Strike Brite-Blade and Springfield Armory brass pin. To participate in the promotion, just visit DUEL.Springfield-Armory.com/Vote and vote on this week's head-to-head matchup, 1911 LB Operator .45ACP versus 1911 MC Operator .45ACP.
Participants can register at DUEL.Springfield-Armory.com to vote in the weekly "duel," in which two Springfield Armory firearms are pitted against each other in a side-by-side comparison. Each vote increases a participant's chances of winning prizes, and registered participants can vote up to once an hour.
Upcoming DUEL 3 prizes:
Gear Up & Go Promotion: In addition to the DUEL 3 promotion, from Sept. 1-Dec. 31, 2015, Springfield Armory is running a Gear Up & Go promotion. Any new purchase of a Springfield Armory XD, XD Mod.2, XD(M), XD-S or 1911 handgun includes two extra magazines, a dual-pistol range bag and a double-mag pouch free with purchase.
About DUEL 3: This is Springfield Armory's third iteration of one of the shooting industry's largest gun and gear promotions. Participants are eligible for daily and weekly prizes, as well as one grand prize. http://duel.springfield-armory.com
DUEL 3 Sponsors – http://duel.springfield-armory.com/sponsors