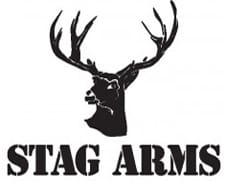 USA – -(Ammoland.com)- Stag Arms is proud to announce that in addition to their standard mil-spec black anodize coating, select models of their AR-15 rifles can now be purchased with Cerakote finishes in the following colors; Burnished Bronze, Gun Metal Grey, Foliage Green, and Desert Tan.
After exhaustive research with different types of coatings the Cerakote finish came out top in all tests.
Stag Arms president Mark Malkowski stated "We have listened to our customer's requests for rifles in various colors and I always want to ensure that any product Stag Arms offers is of the utmost quality and durability. It is what our customers expect and more importantly, what they deserve."
The Cerakote finish is available as an upgrade on the models 1, 2, 2T, 3, 3T, 3TM, 5, 9, and 9T along with their left-hand counterparts. Created in 1984 as a durable ceramic coating for engine headers and exhaust components;
Cerakote quickly became one of the toughest and longest lasting firearm finishes in the world boasting a resistance to abrasion, corrosion, and rust.
Stag Arms has long been known to bring great value to their customers while maintaining the highest standards, which is why the upgrade price for the Cerakote finish is $75.00 while other companies charge $135.00-$250.00. In addition, Stag Arms rifles will have more of the rifle's exterior coated than many competitors' rifles.
The coating includes the handguard, delta ring, upper receiver, lower receiver, buffer tube, A2 grip, and mil-spec buttstock.
Other grips and buttstocks offered will only be available in their original colors. The Cerakote coating upgrade must be purchased at the same time the order for the rifle is placed and cannot be applied after the rifle leaves the factory.
Stag Arms sales representatives can be contacted directly via phone at 860-229-9994 extension #1. If ordering online, simply choose the rifle finish upgrade option on the item page. Additional information can be found by visiting www.stagarms.com.