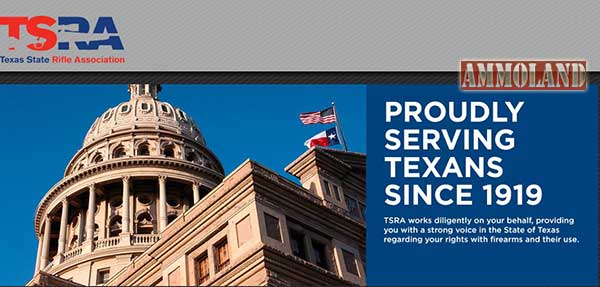 Austin, TX -(AmmoLand.com)- Following a very successful legislative session which expanded and preserved the gun rights of every Texan, the Texas State Rifle Association (TSRA) is pleased to announce the winners of its 2015 Summer Sweepstakes that included amazing prizes such as a Barrett Model 99 .50-caliber rifle and other unique firearms with combined values of nearly $9,000.
Members from across the state were lucky winners in the annual Summer Sweepstakes. The Grand Prize – a Barrett Model 99 .50 Caliber rifle — was awarded to John Carey. George Towle won the second-place prize, a Smith & Wesson M&P 15 with Leupold Mark AR Mod 1 scope.
Third-place prize was a Wyatt Earp S.A. Frontier Buntline .45 LC with 10-inch barrel and mahogany display case was won by Allen Huffhines. Ralph King took home the fourth-place prize which was a High Standard U.S. Model 1911 .45 ACP pistol with custom TSRA grips. The fifth-place winner was John Kopecky, who won the Henry Big Boy .44 Magnum rifle; and Glenn Cornelius received the sixth-place prize of a Bond Arms Ranger II .45/.410 derringer with driving holster.
"We congratulate all of the winners of the 2015 Summer Sweepstakes and extend our sincere thanks to all of our members and sponsors who participated. Their combined efforts and generous support help us fight and protect Second Amendment rights across the State of Texas," says TSRA Executive Director Doug DuBois, Jr. "Fund-raisers such as this are an important means of support for the TSRA, and help us keep our membership dues affordable for every Texan."
Founded in 1919, the Texas State Rifle Association is the largest firearms and shooting sports organization in Texas with nearly 40,000 members. TSRA is also the largest, award-winning state affiliate of the National Rifle Association and is sanctioned by the Civilian Marksmanship Program. As a part of its public education efforts, the association produces a full-color bimonthly publication, TSRA Sportsman, which updates members on current news, hunter education programs, shooting sports competitions, and important issues effecting their Second Amendment rights. The TSRA also hosts an annual meeting every February that features exciting fund-raising auctions, informative speakers, exhibitors, and other events.
For membership or other information about the Texas State Rifle Association, visit www.TSRA.com or call 512.615.4200.
About the Texas State Rifle Association:
Headquartered in Austin, Texas, the Texas State Rifle Association is a non-profit organization dedicated to defending the rights of law-abiding Texans to own, enjoy and use firearms as guaranteed by the Constitutions of the State of Texas and the United States of America. TSRA represents Texas gun owners before the state legislature, and is the NRA state affiliate association.
For more information on membership or supporting the Texas State Rifle Association, call 512.615.4200 or visit www.tsra.com.