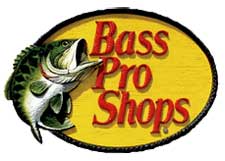 Springfield, MO -(AmmoLand.com)- Bass Pro Shops-sponsored Tony Stewart will race a retro-inspired No. 14 Bass Pro Shops/Mobile 1 Chevrolet SS in the Sept. 6 Bojangles Southern 500 at Darlington as a part of the track's The Tradition Returns weekend.
"All of us at Bass Pro Shops are proud to partner with our good friend, outdoorsman and three-time Sprint Cup Champion, Tony Stewart. We are excited to share the history of Bass Pro Shops with our customers and NASCAR fans," said Johnny Morris, founder of Bass Pro Shops. "We couldn't think of a better way to salute the hard work and dedication of past and present associates than through displaying our history during The Tradition Returns weekend."
The No. 14 Bass Pro Shops/Mobile 1 Chevrolet SS depicts the unique history of Bass Pro Shops and Tracker Boats. In 1971, Johnny Morris, frustrated by the lack of tackle in local stores, rented a U-Haul trailer and took off across the country filling it with the newest premium fishing tackle he could find. When he returned home to Springfield, Missouri, Johnny set up shop in his dad's Brown Derby liquor store, which was located on the way to Table Rock Lake.
What he started as a tackle shop in an 8-foot corner of his father's liquor store is today the leading source for all things outdoors – Bass Pro Shops. Beyond its successful catalog sales more than 120 million passionate fans visit the company's 94 stores and showrooms annually and the company is the world's leading manufacturer of boats.
The No.14 car design resembles the aluminum of the vintage Bass Tracker fishing boats and features vintage Bass Pro Shops and Tracker Boats logos.
The retro design is part of The Tradition Returns weekend at Darlington Raceway, one of NASCAR's oldest venues. The Bojangles Southern 500 will mark Stewart's 579th career NASCAR Spring Cup series start. Stewart, who wears the dual hat of driver and co-owner at Stewart-Haas Racing with Haas Automation founder Gene Haas, is a three-time Sprint Cup Series champion with 49 career wins. The Bojangles Southern 500 begins at 6:00 pm CT on Sunday, Sept. 6.
Today, an internationally recognized brand and leading outdoor retailer with stores across America and Canada, Bass Pro Shops and Track Marine Centers attract shoppers and tourists from more than a 100-mile radius of each unique store where people come to shop, dine, attend seminars or simply view regional artifacts and aquatic exhibits highlighted at each location.
Always looking to blaze new trails in retail destinations, Morris created one of the most dynamic retail experiences in America, Bass Pro Shops at the Pyramid, which opened spring 2015 inside the iconic Memphis Pyramid, a massive former sports arena.
About Bass Pro Shops:
Bass Pro Shops, which specializes in outdoor fun, operates 92 stores and Tracker Marine Centers across America and Canada that are visited by more than 120 million people every year. Bass Pro Shops stores, many of which feature restaurants, offer hunting, fishing, camping and other outdoor gear while their catalogs and website serve shoppers throughout the world. The company's Tracker Marine Group, a leading brand of fishing boats for more than 37 years, manufactures and sells a variety of boats for fishing and cruising. Family fun is on tap at Bass Pro Shops resort Big Cedar Lodge, voted number six by Travel + Leisure Magazine as World's Best Hotels for Families. To request a free catalog, call 1-800-BASS PRO. Follow us on Facebook at http://www.facebook.com/bassproshops.
For more information, visit http://www.basspro.com.